Bra - Explore the wide range of bra online collections that suit your daily styling. Shop Bras like bridal bras, sports bras, t-shirt bras, push-up bras, sexy bra , nursing bras, and more at the best prices.
Bra For Ladies and Girls
A bra is an undergarment that is designed to cover a woman's breasts. Bras are the ideal innerwear for women, who depend on them for comfort and support. They are curated with several features to provide specific functions. There are different types of bras for different occasions, manufactured to suit the event they are worn for.
It is important to choose the right type and style of bra for the desired occasion. Bras are designed uniquely for several occasions for women. From a morning walk to a fancy dinner, bras are available for any event.
Features of a Perfectly Fitting Bra:
It is often difficult to choose the right fitting bra as it should satisfy the features that make the lingerie a fitting one. Some of the common features of a bra are:
The bra straps - The straps play an important role in supporting the bra and the breasts. Bra straps should rest fine on the shoulders and shouldn't fall off and dig into the skin of the shoulder.
The band - The band of the bra provides the most support, holding the weight of the breasts. The band should not ride up, as an improper band won't support the breasts.
The underwire - Underwired bras are one of the most preferred types of lingerie as they provide a better lift, support, and shape of the breasts. Also, one would be wearing the wrong size if the underwire rests on the breasts and not below them.
The cups - The cups of the bra cover the breasts and offer comfort while wearing bras. A person is wearing the right size cup if the cup covers the breasts completely and the breast tissues don't spill over the cups.
Overall, a perfectly fitting bra should make one feel comfortable and confident while performing any kind of activity.
Types of Bras
Everyday Bras - Everyday bras are curated to provide support and comfort while performing any daily activity. These bras come with several stunning features and are designed to fit the breasts perfectly. Everyday bras can be seamed, seamless, and darted, with various cup shapes like full cup, balcony, plunge, and t-shirt cup. These bras also come with padding and one can opt for a non-padded one too. Underwiring and wireless are common features of everyday bras.
T-Shirt Bras - T-shirt bras are an ideal choice for daily wear. These bras provide comfort to carry out one's daily work with ease. Its seamless cups stay invisible under clothing, showing no bra lines. In addition to the comfort, t-shirt bras also come in gorgeous designs for women to gain confidence and enhance their appearance every day.
Fashion Bras - Fashion bras are one of the most stylish types of lingerie that provide comfort and enhance the posture of the body, giving a more appealing look. These bras are carefully curated with several features to enhance the look desired by women. Fashion bras can be seamed, seamless or darted, with various cup shapes like full cup, balconette, balcony, plunge, and t-shirt cup. These bras come with padding to provide a better shape for the breasts. Underwiring and wireless are common features of fashion bras.
Push-Up Bras - Push-up bras are one of the most popular types of bras that are known to provide equal amounts of comfort and style. These bras make smaller breasts appear fuller, giving a natural lift. These bras provide an enhanced appearance and shape for the breasts and also give support to carry out daily activities. Push-up bras are of three types, based on the level of lift they provide-Level 1, Level 2, and Level 3.
Nursing Bras - Nursing bras are one of the must-haves in the wardrobe for new mothers as they provide great support and comfort for the breasts. The bras are manufactured to support the breasts, which might feel heavier during pregnancy or after childbirth. It also eases and provides quick access to breastfeeding.
Sports Bras - Sports bras give no place for discomfort, helping women carry out an intense workout with ease. From jogging to heavy exercise, sports bras keep the breasts in place, saving women from the pain and discomfort they cause during any intense activity. The bra does not let the breast tissues sag, and its breathable fabric absorbs sweat during intense workouts.
Minimizer Bras - Minimizer bras are ideal lingerie for women with larger breasts. The bras cover the breasts fully and smooth the sides, crafted to make the breasts appear smaller. Although minimizer bras do not technically reduce the breast size, as the name suggests, they make the breasts look smaller.
Strapless Bras - These bras provide a stunning look for strapless and off-shoulder dresses. Strapless bras have a wide bottom band that spreads around the body, providing the required and equal amount of support to the breasts.
Bralette - A bralette is designed to feel like a second skin for the person wearing it. It is wire-free, non-padded, and seamless, providing all the comfort factors required for a bra. They are the perfect culmination of comfort and style in the world of lingerie.
Cami Bras - Cami bras are slip-on bras preferred by many women to experience the ultimate comfort. These bras are designed mainly for teenage girls for daily wear as they provide slight support without causing any discomfort. Cami bras have an elastic band that is softer than the bands in a typical bra, saving the person wearing it from any irritation.
Plus size bra - A free size bra is a type of bra that is designed to fit a range of body types and sizes, as opposed to being designed for a specific size. It typically features adjustable straps and elastic material, which can provide a customized fit for different body shapes and sizes.
Bra (ब्रा) Faqs
1. Which bra is best for ladies?
The proper size which fits you like a frame is the best bra that you can ever wear. Search our bras shop that is made up of exclusive lingerie fabrics like
pure cotton,
cotton and spandex
polyamide
lace
2. Which Type of bra is best?
Every type of bra provides a different function depending on the wearer's need and occasion.
A T-shirt bra is best when you wear any apparel that has a body-hugging fit and is made up of clingy fabric, as a
3. How to measure bra size?
To calculate your bra size (ब्रा साइज) using the underbust and overbust measurements. Your band measurement is subtracted from the bust measurement and the relevant bra sizes with cup sizes for different lingerie brands are displayed for your ease of p
4. How to wear a Bra?
1. Glide your arms through the shoulder straps and position the bra cups on your breasts.
2. Bend forward so that your breasts plunge into the bra cups nice and perfect.
3. Clasp the band in the first hook at the edge
Related Blogs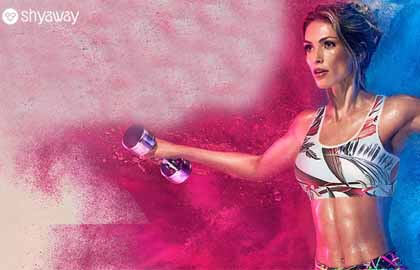 The bra plays an important role in every teenage girl's life because it literally provides the best support and the protection she needs.
READ MORE