Sports Bra - A crucial clothing item for women engaging in high-intensity physical activities is the sports bra, which provides coverage and support for the breasts. There are different styles and sizes of sports bras available to choose from based on one's level of activity and personal comfort.
Buy Sports Bra for Women Online
A sport bras is an essential part of your wardrobe other than normal bras. It gives extra support, protection, and flexibility all at the same time. The comfiest and supportive women's bras are available online in India to shop at Shyaway.com. Here you can buy a variety of active bras for sports like a gym sports bra for workout or yoga, high impact, plus size or a padded sports bra from Shyaway. Our Women's Bra collections can elevate your fit & style for rigorous workouts.
Sports Bras in India are made to provide adjustable straps for comfort when you indulge in sports or recreational activities. During rigorous activities, these kinds of bras are essential to provide safety and support to women. Shyaway.com also designs women's bras that are worn as outerwear during other sports like jogging, or running. No wonder Shyaway.com is India's top lingerie online shopping site and a perfect one-stop destination as it presents a high-quality designer sports bra for every girl and woman at an affordable price.
Sports Bra Features
Sport bras is specially designed to support the movement of breasts while doing any workouts. It comes with various features, colours, sizes, brands and styles according to people needs. You can buy this sports bra online with shyaway.
Sports Bra For Gym
You can use these stylish sports bra for gym to reduce pain and physical discomfort. It come up with extra padding for high-impact exercises so that people mostly prefer good sports bra for gym workout. You can also use these ladies sports bra for running because it's specially designed to be worn as an outer garment while running.
Some gym bra have removable pads. Statistics says people not only use bra for gym purposes, they also use it for daily needs to care her bust from saggging. So people called it as a body care sports bra.
Sports Bra For Heavy Breast
If you are looking for a sports bra for heavy breasts it's a good choice. It gives excellent compression to put your muscles in place and make intensive power exercise effortless and joyful.
Womens sports bra gives your bust full coverage and most importantly it's wireless to avoid discomfort. So it's also called as sexy bra. Racerback is one of the style that will be mostly liked sports bra for heavy breasts. Are sport bras only meant for heavy breast, definetly no, it is also loved by teenagers.
Sports Bra For Teenagers
Sports bra for teenagers have a feature from low impact to medium impact. Sports bra india has come up with various brands like shyaway, shyle, united classic, etc. Classic back, cross back, crop top, racerback, and T-back are some of the top bra for teenagers .
T-back is one of the best sports bra that the girls with small bust will like. It provides little lift & good support without any flattening and squeezing with sufficient air to flow.
Sports Bra for girls
Shyaway offer best sports bra for girls. which helps in preventing pain and discomfort while they are playing sports activity. They prevent the breasts from moving around by providing strong support to breast tissues.
Yoga Sports bra
Own the 'art of yoga' with amazing yoga bras! Shout out for yoga sports bra to sweat out. Yoga sports bra are available in plus size and offers ample support. These amazing padded, push up yoga bras are crafted with comfy sweat absorbent fabric, elastic band, back closures for your yoga session. Practising Yoga offers peace for the mind, body and soul. It eases your life. Have you mused How this Yoga bra will work? It will allow you to move around or stretch freely.
Yoga bras offer freedom for your yoga poses. It encapsulates the intensity workouts movements of your breasts, call it a 'supportive bra' for your physical activities. Don't pick a normal bra for Yoga, you may get distracted by discomfort. Every occasion requires a different kind of bra and so does yoga.
Find the Best Sports Bra Fitting at Shyaway Online
If you are planning to buy a sports bra online or one who needs an active bra for every occasion, you are in the right place with Shyaway.com. Sports bras for girls can be of two types mainly - with molded cups to encapsulate the breasts or compression type bras to restrict the movement of the breast while it is worn.

Need a gym bra for a workout at the gym, cycling, sports, dancing, jogging, or running? Shyaway has options for all kinds of gym bra in all sizes, colors, prints, fits, molds, designs, and necklines.

Teenage girls looking out for a camisole kind of sports bra have a treat in our huge range of collection for the best support, fit, comfort, and a slip-on style. You can never buy just one from a huge range of cuts, patterns, colors, including latest-trends like strap detailing, high necklines, and mesh panels.

Padded sports bras for girls are designed specially to lend support during physical activity. Shyaway.com designs different bras for different activities. For instance, the yoga and exercise bra is made to be extremely comfortable to provide flexibility and ease of movement while jogging bras are made bounce-free and also don't restrict ease of breath. The moisture-wicking fabrics prevent the skin soaked in sweat.

Buying an online sports bra in India is a delight with the wide variety of fabrics we specialize in to help the sweat wick away from the body. Another way sports designs keep the sweat away is by using mesh sections to keep the body cool during activities.
At Shyaway.com the sports bra price starts from 649 to 999 with a variety of shapes. To give your arms and shoulders ease of motion a racerback sports bra is recommended where the straps cannot fall along with providing support. You also get to shop underwire bras in the market commonly not found comfortable by all, due to the wire rubbing against the skin during a repetitive motion that ends up being painful.
Sports Bra for Women Faqs
Q1. What Is Sports Bra Good For?
A sports bra is good for providing support and reducing breast movement during physical activity, helping to prevent discomfort and potential breast damage.
Q2. How to Find the Right Sports Bra?
To find the right sports bra, you should consider your size, the level of impact of your activity, and the type of support you need (compression or encapsulation). Trying on different styles and brands can also help you find the right fit.

Q3. How Tight Is a Sports Bra Supposed to Be?
A sports bra should fit snugly, but not be too tight to restrict breathing or cause discomfort. You should be able to fit one or two fingers under the band and the straps should stay in place without digging into your skin.
Q4. Is It Bad to Wear a Sports Bra to Bed?
Yes, it is bad to wear a sports bra to bed as it is designed for physical activity and not meant to be worn for extended periods of time while sleeping. Sleeping in a sports bra can also cause discomfort and restrict breathing.
Related Blogs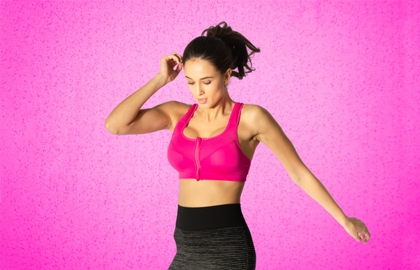 Front zipper sports bras are easy to wear & has a zip closure that runs up from the front of your torso to your neck. It's an ideal addition to your sports bra collection 2023
READ MORE