Sports Bra - A crucial clothing item for women engaging in high-intensity physical activities is the sports bra, which provides coverage and support for the breasts. There are different styles and sizes of sports bras available to choose from based on one's level of activity and personal comfort.
Sports Bra Shopping Tips

A sports bra is an essential part of your wardrobe other than normal bras. It gives extra support, protection, and flexibility all at the same time. The comfiest and most supportive women's bras are available online in India at Shyaway.com. Here you can buy a variety of active bras for sports like a gym sports bra for workout or yoga, high impact, plus size, or a padded sports bra. Our women's bra collections can elevate your fit & style for rigorous workouts.
Sports bras in India are made to provide extreme comfort with adjustable straps when you indulge in sports or recreational activities. During rigorous activities, these kinds of bras are essential to provide safety and support to women. Shyaway.com also designs women's bras that are worn as outerwear during other sports like jogging, or running. No wonder Shyaway.com is India's top lingerie online shopping site and a perfect one-stop destination as it presents high-quality designer sports bras for every girl and woman at an affordable price.
Sports Bra Features
Sports bras are specially designed to support the movement of breasts while doing any workouts. It comes with various features, colors, sizes, brands, and styles according to people's needs. You can buy this sports bra online from Shyaway.
Sports Bra For Gym
You can use these stylish sports bras for the gym to reduce pain and physical discomfort. It comes with extra padding for high-impact exercises that are suitable for people who prefer a good sports bra for intensive gym workouts. You can also use these ladies sports bras for running because they are specially designed to be worn as an outer garment while running.
Some gym bras have removable pads. Statistics say people not only use bras for gym purposes, but they also use them for daily needs to keep their busts from sagging.
Sports Bra For Heavy Breast
If you are looking for a sports bra for heavy breasts it's a good choice. It gives excellent compression and supports breasts from strains and pains. It makes intensive power exercises effortless and joyful.
Women's sports bra gives your bust full coverage and most importantly it's wireless to avoid discomfort. Racerback is one of the styles suitable for heavy breasts. Are sports bras only meant for heavy breasts? Definitely not, it is also for women of all age groups, body shapes, and breast types who engage in any form of activities.
Sports Bra For Teenagers
Sports bras for teenagers can be low-impact,medium-impact, or high-impact. Shyaway, Shyle, and United Classics are some of the brands that sell sports bras in India. Classic back, cross back, crop top, racerback, and T-back are some of the top bras for teenagers.
T-back is one of the best sports bras that girls with small busts will like. It provides little lift & good support without any discomfort.
Sports Bra for Girls
Shyaway offers the best sports bra for girls which helps in preventing pain and discomfort while they are playing sports. They prevent the breasts from moving around by providing strong support to breast tissues.
Yoga Sports Bra
Own the 'art of yoga' with amazing yoga bras! Wear a yoga sports bra and sweat out in joy. Yoga sports bras are available in plus size and offer ample support. These amazing padded, push-up yoga bras are crafted with comfy sweat-absorbent fabric, elastic bands, and back closures for your yoga session. Practicing Yoga offers peace for the mind, body, and soul. It eases your life. Have you wondered how this Yoga bra will work? It will allow you to move around or stretch freely.
Yoga bras offer freedom for your yoga poses. It is a supportive bra that helps you do your asanas at ease. You can also wear this bra for other physical activities. Don't pick a normal bra for Yoga, because it will not provide you the entire support you've been looking for. Every occasion requires a different kind of bra and so does yoga.
Find the Best Sports Bra Fitting at Shyaway Online
If you are planning to buy a sports bra online or need an active bra for every occasion, you are in the right place with Shyaway.com. Sports bras for girls can be of two types mainly - with molded cups to encapsulate the breasts or compression type bras to restrict the movement of the breast while it is worn.
Need a gym bra for a workout at the gym, cycling, sports, dancing, jogging, or running? Shyaway has options for all kinds of gym bras and activity bras in all sizes, colors, prints, fits, molds, designs, fabrics, and necklines.
Teenage girls looking out for a camisole kind of sports bra have a treat in our huge range of collections of slip-on style bras that offer the best support, fit, and comfort. You can never buy just one from a huge range of cuts, patterns, colors, including the latest trends like detailing on the straps, high necklines, and mesh panels.
Padded sports bras for girls are designed specially to lend support during physical activity. Shyaway.com designs different bras for different activities. For instance, the yoga and exercise bras are made to be extremely comfortable to provide flexibility and ease of movement while jogging bras are made to provide bounce-free support without restricting breathability. The moisture-wicking fabrics wicks away sweat.
Buying an online sports bra in India is a delight with the wide variety of fabrics we specialize in to help manage the sweat. We use mesh in our sportswear designs to ensure the temperature of your body is maintained during activities. At Shyaway.com the sports bra price starts from 649 to 999.
Choose the best style that works for you and enjoy the support we offer through our bras. Explore the style options and select bras that are perfect for the different activities you perform.
Sports Bra for Women Faqs
Q1. What Is Sports Bra Good For?
Every female athlete must have a Sports Bra as a workout accessory. The bra provides performance-enhancing benefits which are given below.
Get enough support while exercising – Too much of movement would stretch and tear the ligaments of the breasts. This damage can result in drooping of breasts. To prevent this condition from occurring prematurely you must wear a fitness bra that provides you the right support.

The innerwear can minimize breast movement – The most important benefit of wearing a Sports Bra for women remains to minimize breast movement while performing an exercise. The fitness bra with the right fit will hold your breasts in place without making your boobs feel uncomfortable.

The Bra doesn't absorb sweat but regulate temperature – The fabric of the athletic wear is good enough to wick moisture from your body. This would increase airflow to your skin and will keep your body cool and dry.
Make sure that you wear a tight sports bra i.e a well-fitted body-hugging ladies sports bra, which can also be called gym bra every time during a workout to protect your body and improve the workout.
Q2. How to Find the Right Sports Bra?
It is important to buy a well-fitting exercising bra to minimize the movement of breasts during activities. Different activewear, especially bras provide varying levels of support. The first step in finding the right match is to determine the activities you'd need them for. For walking, tai chi, or basic yoga, opt for a low-impact ladies sports bra. If you want to cycle, hit the gym or dance, go for a medium-impact women's sports bra. Women who run, skip or practice plyometrics use a high-impact bra. Two basic technologies are used in the construction of girls sports bras:
Compression - Bras are stretchy and as the name suggests offer some degree of compression. This is ideal for small-breasted women.
Encapsulation - Bras are engineered to support each breast individually as well as provide shape. When fitted with underwire, the encapsulation is enhanced.
Bras that effectively combine these attributes offer superior comfort, support & shaping.
Q3. How Tight Is a Sports Bra Supposed to Be?
The activewear is usually a lot tighter than your regular bra; this again goes back to the question of why we wear a fitness bra. Sports bra for women is more for performance and functionality than for comfort, so they are made to compress your breasts and restrict their movement. This is why; they are usually a couple of or more inches smaller than a regular bra. They do not follow the same size chart as other bras; they follow the common XS, S, M, L, etc sizes. To get an accurate size, measure your bust while wearing a non-padded bra. Each size in ladies' sports bra range refers to and fits one or two bra sizes. For your convenience, check out our size chart which is in centimeters. For this reason, we recommend you to measure your bust before you buy sports bras online, to avoid a difference of a few inches.
Q4. Is It Bad to Wear a Sports Bra to Bed?
Sports Bra for women is made of completely different materials than a normal bra. They are also made for different purposes altogether. Sportswear is made of polyester, nylon, Lycra or spandex or a combination of these. These are materials that are water and sweat proof, that is they do not absorb sweat or water. This is to cool down your body while you perform a sport or work out. This function is required only when you are involved in vigorous physical activity. Ladies' sports bra is a lot tighter (smaller by an inch or two), making sure your breasts don't bounce. Therefore, wearing it any other time especially to bed is a bad idea. You want your skin to breathe and relax during your sleep, not compressed. Just like not wearing a girl's sports bras can damage your breast tissues, wearing them at the wrong time can also cause damage (probably more).
Q5. Why Do You Need to Wear a Sports Bra?
When it comes to buying sports bra online or a pair of workout clothes, everyone tries to save a few bucks. But there are a few reasons why we need to wear them:
To avoid discomfort – If you are a person who regularly goes for a walk or jogging if your breasts are not held in place, this could create discomfort. A good quality workout bra will handle movement and motion. So to hold your breasts firmly wear an exercise bra during workouts.

Reduce breast pain – The muscle ligaments will move up and down while exercising. This can result in pain in breasts after a workout. So to avoid pain get the best fitting online sports bra from Shyaway.

Avoid nasty stares – have you ever felt annoyed people staring at your boobs while running. Avoid nasty stares by wearing a jogging bra while running or jogging. Buy a good quality fitness bra that fits snugly to prevent your breasts from bouncing while exercising.
A workout bra is specifically constructed to absorb the shock caused by repetitive movement, so buy them at the earliest.
Related Blogs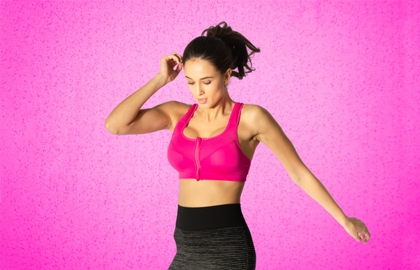 Front zipper sports bras are easy to wear & has a zip closure that runs up from the front of your torso to your neck. It's an ideal addition to your sports bra collection 2023
READ MORE