Everyday bra - Shyaway displays a unique assemblage of everyday bras for optimum support and comfort. A Printed bra is chosen on a fun holiday whereas a casual bra is carried with style on a regular day. Discover more on Shyaway bra Collections
(Or) Buy 2 @MRP Get 3 Free

(Or) Buy 2 @MRP Get 3 Free

(Or) Buy 2 @MRP Get 3 Free

(Or) Buy 2 @MRP Get 3 Free

(Or) Buy 2 @MRP Get 3 Free

(Or) Buy 2 @MRP Get 3 Free

(Or) Buy 2 @MRP Get 3 Free

(Or) Buy 2 @MRP Get 3 Free

(Or) Buy 2 @MRP Get 3 Free

(Or) Buy 2 @MRP Get 3 Free

(Or) Buy 2 @MRP Get 3 Free

(Or) Buy 2 @MRP Get 3 Free

(Or) Buy 2 @MRP Get 3 Free

(Or) Buy 2 @MRP Get 3 Free

(Or) Buy 2 @MRP Get 3 Free
Everyday Bra - To Live in Your Style
Every girl has different views on shopping online, whether it's the perfect bathing suit, panty or a bra. Gone will be the days of running home to free yourself from the horrible torture that is your bra. You'll finally make it through a full day feeling comfortable, sweat-free, and pretty much ready to fall asleep in your stretchy and soft intimates. Everyday Bra is not just beautiful but it is soft and comfortable too. It supports your breasts and keeps your body looking trim and streamlined. So, it is a must for every woman to wear an everyday bra. When we focus on everyday wear it must be more comfortable. It must be crafted with superior fabrics and construction combined with high style. An everyday bra generally has the following characteristics,
Padding
Depending on your preference you can pick a comfortable everyday bra that is padded, non-padded, or has removable padding. One of the best bra for daily wear would be cotton, non-padded, darted bras. Breathable fabrics such as cotton make womens everyday bra the most comfy everyday bras. Seamless Every Day Bra provide the light support needed in a daily wear bra.
Seams
f you happen to wear t-shirts or dresses where seams in your everyday bra are visible, opt for a seamless, padded, wirefree bra for daily use.
Push up
In general, a daily wear bra would have the least push up possible. At the maximum, an everyday bra would have a Level 1 push up.
Styles
What an everyday bra lacks in push up, it aces in the styles available. A daily wear bra these days has all possible styles right from casual, to printed, to lacework, to even bridal!
Coverage
A bra for everyday use has to cover your breasts properly. It has to ensure at least 3/4th coverage. There is demi-coverage everyday bra available too. Ideally, a full coverage would be the most comfortable bra for daily use. But depending on your attire style, it may vary.
Everyday Bra - Need or Necessity?
As the name suggests an everyday bra is made keeping in mind that it would be used every day. An everyday bra provides you support and comfort at the same time. It ensures your breasts, in the long run, do not sag, do not get stretch marks and ligament tears by accident. It is one of the most comfortable bras for daily wear and can be styled with many attires like t-shirts, kurta, daily sarees, salwar, night tees, etc. It is pretty much a necessity!
The Best Bra for Daily Wear
Finding a bra for daily use is entirely dependent on your lifestyle. If you are into light workouts like walking, basic yoga, and meditation, then wearing a sports bra for daily wear would be ideal. If you are a busy homemaker/stay-at-home mom then choosing a comfortable bra for daily use is mandatory. If you are just chilling on your retirement cruise or playing with your grandkids, finding and wearing a bra for daily use is advisable. Therefore, irrespective of your age, if you have breasts, wearing a comfortable bra for daily use is a necessity.
How this necessity fits into your dressing style is what you will have to figure out when looking for the best bra for daily wear. You might be a person wearing mostly t-shirts, which would require you to pick a padded, seamless everyday bra. If you are comfortable in wearing dresses with deep necklines, a demi-cup, wire-free everyday bra would be your comfortable everyday bra. If you are climbing up the corporate ladder, a well seamed or darted, padded everyday bra, would be the best bra for daily use since it will look great with your business suits.
Bra - Daily Use and Caring
Once you figure out the most comfortable bra for daily wear, taking proper care of them when washing is key to the comfort and support it would provide for you.
Wash
If you are purchasing a padded everyday bra, try not to wash it often. Air-dry it and when washing, ensure not to squeeze the padding too much. This will make the padding in your best everyday bra lose its shape. Similarly, if you happen to choose a lacework everyday bra, ensure it is not being caught and pulled a lot with the other clothes in your washing machine. This will cause the lacework to tear easily.
Dry
When hanging the everyday bra or bras in general, ensure the cups aren't being clipped. This will change the shape of the cups (especially padded ones).
Finding an Everyday Bra Online
One main thing to ensure when buying an everyday bra online is your sizing. Finding your right bra size is key to purchasing any lingerie online. Try to find offers on everyday bra sets to save more money. Shyaway has one of the most user-friendly online sites to shop for comfy everyday bras. Filled with offers everyday, it could be your go-to destination to shop everyday bras for support, everyday bra for big bust, and everything in between.
The illusion of Luxurious Comfy with Everyday Bra
Crafted with fabrics from cotton, polyamide, spandex mix for the proper elasticity, combined with sexy touches like lace and satin, it's no wonder women across flock to that brand.Our main motto is to provide good quality, comfy, durable, supportive, and easily-washable bras at affordable prices. So we are sure that our collections of everyday bras are great for women who prefer everyday comfort. The comfort, lightweight feel will make you forget you're wearing a bra. It goes well with any outfits accordingly. As there are enormous collections of everyday bra online, it is up to you to pick your choice. This everyday bra also has an adjustable, back adjustable or regular strap that is of soft elastane that makes you feel comfy and leave no marks on the skin. You can pair it with any of your kurtas, saree blouse, shirt or tops. You can always wear these bras with a trendy Women Nightwear for a comfy home fit and get a pleasant feel. We bring you the secret in uplifting feminine confidence as it gently hugs your body ever so closely, delivering the smoothest skin feel and fit.
Online Shopping-Everyday Bra
Our everyday bra collections always emphasize your body shape and will look great with casual, formal and party clothes. If you're tired of relying on heavy padding to get support, you'll want to consider the microfiber demi bra that offers just the right amount of coverage to keep you feeling good all day. You can also see for full coverage bras, which gives you the best promising quality and perfect fitting.
There are casual everyday bra, printed bra, molded bra, designer bra, side encircle bra, sports bra and much more that can be worn according to the event like daily wear or any special occasions, comes with sophisticated styles and charming colors. Its blissful fabrics will wrap you in amazing comfort and fill you with confidence every single day. Our everyday bra collections will always emphasize your body shape. To fulfill all your lingerie needs, there are stylish and high-quality bras for every occasion that are sure to complement and liven-up your collection of lingerie. Shyaway online shopping offers bras of various styles, brands, and materials that even suit the needs of ideal ones.
Everyday Bra For Daily Use Faqs
1. Is Everyday Bra Best for Daily Use?
It depends on personal preference and comfort. Some people prefer wearing an everyday bra for daily use, while others prefer different types of bras for different activities and clothing.
2. Is It Good to Wear a Bra every day?
Yes, wearing a bra every day can provide support and comfort to the breasts.
3. Whats the Best Type of Bra to Buy for Everyday Wear?
The best type of bra for everyday wear is a comfortable, supportive, and well-fitting bra. This can vary for each individual and can depend on factors such as breast size, shape, and activity level.
4. Is Everyday Bra Good for Health?
Wearing a properly fitting and comfortable bra can be good for breast health by providing support and reducing strain on the back and neck. However, it's also important to allow the breasts to rest by not wearing a bra for extended periods.
Related Blogs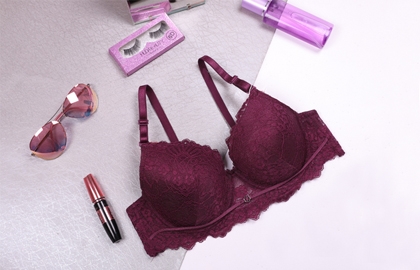 The centre gore of a bra should lie flat on your chest and keeps your breasts separate. If it doesn't, the band is too big or the cup may be too small.
READ MORE