Bridal bra - Make your special day with our best bridal bras collections. Get from a lace wedding bra to honeymoon bra. Choose your bridal bra with different styles and types.
(or) Buy 2 @MRP Get 3 Free

(or) Buy 2 @MRP Get 3 Free

(or) Buy 2 @MRP Get 3 Free

(or) Buy 2 @MRP Get 3 Free

(or) Buy 2 @MRP Get 3 Free

(or) Buy 2 @MRP Get 3 Free

(or) Buy 2 @MRP Get 3 Free

(or) Buy 2 @MRP Get 3 Free

(or) Buy 2 @MRP Get 3 Free

(or) Buy 2 @MRP Get 3 Free

(or) Buy 2 @MRP Get 3 Free

(or) Buy 2 @MRP Get 3 Free

(or) Buy 2 @MRP Get 3 Free

(or) Buy 2 @MRP Get 3 Free

(or) Buy 2 @MRP Get 3 Free

(or) Buy 2 @MRP Get 3 Free

(or) Buy 2 @MRP Get 3 Free

(or) Buy 2 @MRP Get 3 Free
BUY BRIDAL BRA ONLINE FOR A DREAMY INSPIRATION
For every woman, foremost stands her wedding occasion in comparison to other regular beings. This is the day that she blushes herself in the best bridal attires to gleam in beauty and charm. So she waits for this hour shopping the best-of-all outfit and mainly lingerie to shape them up. Like bridal gowns or sarees, buying bridal bra and panty sets won't be too exciting but being best in choosing the foundation garment for your body is a wise choice so that your dress doesn't ruin your look. Many women hoist the query of "how to buy the right wedding lingerie for my dress?" or "which is the best bra for the honeymoon?".Going to shops to buy your bra might be too hesitant. So, when it comes to online shopping zones, you will feel comfortable and happy to choose your favorite in varying styles and designs. For all your excitements shyaway.com, one of the best lingerie sites in India presents you with the highlighting bridal bra collections which even include your special evening wear. You may also find beautiful bra assortments that can be worn on this special occasion.
CAPTIVATING BRA PICKS TO MATCH YOUR NUPTIAL DAY
If you are confused as to what to pair your special day attires with, don't worry, we got you! Here are some of the most commonly bought bridal bra and bridal bra set online.
Fashion/Fancy Bras - This type of bridal bra is usually made of sheer fabrics like lace, satin, and mesh. One of the myths is - a women's bridal bra is only for the bride. No! You don't have to be a bride in order to flaunt a sexy bridal bra. The idea behind designing a bridal bra for women is to provide that feeling of specialness. You don't have to be the bride in order to feel special every day! Wear your favorite sexy bridal bras and flaunt that special feel whenever you feel down.
Apart from the feeling it gives, the bridal bra for ladies creates the perfect fit into your dresses which are heavily embellished. Heavy embellishments on outfits make them bulky. It also weighs down your breasts and gives a saggy look. Padded and wired bridal bras are a great way to ensure your heavily embellished wedding attires look fitted.
Everyday Bras - A bra panty set for bridal wear also comes in fancy and comfortable styles such as the everyday bra. Having enticing balcony cups and laced fabrics, these padded wonders work really great with your Mehendi function, Diwali, and other celebration attires.
Bridal bras available in everyday style provide the perfect comfort needed to dance and enjoy in your celebrations!
Push up bra graced in lace is the most-loved and adored piece that crafts the blooming desires in you. The soft cups are sewn with levels of paddings giving fuller look. This demi coverage bra has lace workings in giving you the Kalopsia outlook. Wearing a push-up bra beneath your gown provide your bust with shape and beauty. This bra is fabricated with a mix of spandex, cotton, and polyamide giving a soft touch of comfort in an alluring style. You will find various styles of push up bra that are painted in vibrant shades and perennial prints that match your stylish bridal lace apparel giving you the ostentatious glance. There are many brands like shyle bringing you the mind-blowing selections in a wide range. Women who find difficulty with the back closures in this type of bra can go for a stylish front open bra that has plunged neck with paddings giving pastel perfection to your glimpse. This bra has flaunting racerback designs flourished in lace workings giving you the queen in glance.
SPLURGE YOUR MAGICAL MOMENTS WITH SHYAWAY
Don't stop with just the wedding lingerie shopping, you will also discover the adorable honeymoon bra collection on our site. Start your wedding evening with candlelight and flowers decorated the room, the next you need is a tempting costume. Suit yourself with a stylish and sexy babydoll nightwear worn with or without your wedding bra. This short chic gown is crafted in rich lace and mesh fascinatingly thriving your beauty. Walk beside your partner in this stylish bridal nightdress and melt him in passion and love all for you. You will also get a chic gleaming G-string panty that matches your nightie providing the ultimate stance of prettiness. Create alluring night-tale memories in this stunning wedding collection from shyaway and be the queen of all-time.
A honeymoon bra for women is not designed only for that occasion. It also works great on your vacations. A subcategory of bridal bras, the coveted sexy honeymoon bra works great in your vacation outfits. Flaunt your plain, beach kaftans in a well-designed, fancy honeymoon bra for ladies.
There are also different types of honeymoon bras available. Fashion/ Fancy, Everyday, and Push-up are the most sought after. Honeymoon bra sets available in these types suit every enjoyable occasion in your life, right from weddings to baby moons!
(Under) RULE OF SHOPPING ONLINE
RULE OF SHOPPING ONLINE
Shopping for bridal bras and honeymoon bras online is quite exciting, especially with the collections present in Shyaway! We offer a wide range of filters specific to your needs. Flaunt your favorite looks effortlessly! Shyaway offers one of the best websites to buy bridal bra online in India. Shop and look sexy in that bridal, hot bra!
While shopping bridal bra online in India for the first time, one must know the rules of purchasing them. Using a bra size calculator available on our site will help you find your perfect fitting one. All you have to do is take a measuring tape and gauge the size of your bust and band so that you will get your fave. For further queries, you may also contact our experts, as they are free and friendly to guide you. Enjoy shopping with shyaway for the trendy and fashionable looking bra panty selections at affordable range!
Bridal Bra FAQ's -
Bridal Bra ( ब्राइडल ब्रा) Online Collections Faqs
1. What are the trends in Modern bridal lingerie?
Bridal bras padded and underwired bridal bras make you more graceful and feminine in any apparel.
Lace thongs- tiny piece of lace panty. It is meant to make your butt look sexy.
Bralettes- pair with the sexy lace thong to flaunt with zing.
Babydolls with g string- pretty, cute, frilly, flowy, call it anything. Whatever it is, it translates into sexy when you wear it.
Lingerie set with robe-cheeky transparent bra and panty with robe

2. What are the good ways to choose a beautiful wedding night lingerie?
Wedding night lingerie is for your intimate times. You can choose lingerie that you like to wear you can ask for your partner's preferences. Some women choose lace embellished pushup bras and a thong of the same pattern. Transparent baby dolls with g-string and a sheer negligee is on-demand from brides to be and the newly-wed. A lingerie set with bra and panty comes in mesh fabric is fully transparent which is perfect for the wedding night.
3. Why do Indian brides wear padded bras?
• To make their bust look bigger
• To make the breast look fuller
• To give the appearance of firmer bust
• To create natural cleavage
• To give smooth look on any type of apparel
• For better nipple coverage
• To make them look more gracious and feminine
• To make their heavy attire drape well on their body
• To feel more comfortable
4. How to Pick Your Perfect Honeymoon Lingerie?
Lace thongs- don't underestimate this tiny piece of lace panty which makes your butt look sexy.
Bralettes- pair with the sexy lace thong to flaunt with zing.
Babydolls with g string- pretty, cute, frilly, flowy, is extremely sexy when you wear it.
Lingerie set with robe- adorn the cheeky look with transparent bra and panty with sheer, barely-there robe!
Bikini set- a pair of strappy bikini sets for beach getaway.

Related Blogs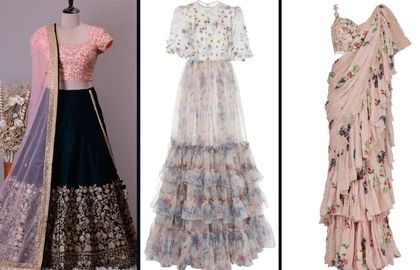 Are you planning to tie a knot this year? Planning for a perfect wedding can be quite stressful. From finding the perfect wedding outfit to finalizing the guest lists, there are so many things to do.
READ MORE