Women Sportswear Online - Get into shape with your everyday exercise regime in Shyaway's active sportswear for women. Indulge into the world of physical fitness in a sports bra, yoga bra, exercise bra, Zumba bra or a camisole and complement it with matching workout leggings, tights sportswear during your effective workout sessions. Browse through the top sportswear for women here. Indulge in the biggest sportswear fashion that offers a wide range of colors, styles, designs, prints suitable for your everyday motivation! Shop our women sportswear today and get exciting offers and discounts.
SWEAT IT OUT WITH SHYAWAY'S ACTIVE SPORTSWEAR
A healthy lifestyle is all it takes to stay fit. A balanced diet, stress-free physical and mental health is very much essential for a woman's cheerful day. Most of us forget the fact that exercise can play a major role in our everyday lives. A fifteen-minute workout session can greatly affect one's overall fitness. It is hard to digest the fact that most women don't exercise because of uncomfortable or revealing t-shirts and tracks. Keeping this in mind, Shyaway has come up with its exclusive collection of Active Sportswear from various renowned brands. Here, we discuss some of the distinct Sports Bras and Sports Pants from Shyle.
GET FIT IN YOUR BEST SUPPORT SPORTS BRA
Cotton is a soft, feel-good fabric for stretches and workouts. Hence, generally, women feel that cotton Bra and Panty Sets are most efficient for gym sessions. But there is more to it. How about a perfect blend of cotton and spandex in your Sports Bra for that flexible and comfort fit? The airy fabric and knitted construction keep your body relaxed for easy movement. The moisture-wicking fabrication of sports bras avoids sweat retention on your skin. Shyle sports bras come in radiant colors and distinct designs catering to the personal preferences of every woman. These sports bras give full coverage and are easy to slip on. Sports bras are also available with a front zipper, which makes it easier to put it on. The soft Padded Sports Bra gives women the ultimate confidence and best support during active workouts. The stylish racerback makes it easy to wear without tangling problems. Also, one can try the criss-cross back and mesh-back sportswear, which is currently trending. Sports bras are available in almost all sizes, so it is a hassle-free process to buy sportswear online.
WORKOUT SESSIONS MADE BETTER IN A SPORTS PANT
Active sportswear is incomplete without a complementing sports pant. The high-stretch fabric fits you the best making it a must-have in your Sportswear closet. Sports Legwear is usually knitted to lightweight to avoid any kind of discomfort. This full-length pant covers till the ankle and makes your stretches easy. These active Gym Pants can be sported high-waist. The elastane waistband rests softly on the skin with zero stretch marks and rashes. They are available in a vibrant palette of double shaded pastel colors. So the choices are endless. It is always advisable to slip on a Cotton Panty before getting into your sports pant, as cotton absorbs moisture and keeps your skin dry and clean from odor.
CARRY YOUR SPORTSWEAR IN STYLE
Women have a wrong notion that sportswear is only meant for those involved in sports or workouts. In reality, sports bras give a perfect rounded shape to your busts making it almost invisible beneath your daily wear t-shirts. It sometimes, takes the place of your Everyday Bra, giving extreme comfort. Women with smaller busts, without a doubt, could go for these bras. In addition to a Beginners Bra, a padded sports bra also provides the best support and fit for a teen. Similarly, a tights legwear can also be worn to create a style statement. It is easy to match it with your favorite Tanktop. Some of the best sportswear collection is available on India's largest Online Lingerie Shopping site shyaway.com. Grab the amazing deals before it's gone!
Sportswear Online Collections Faqs
1. Which fabric is best for sportswear?
The first and foremost thing you should pay attention to is the fabric. Fabrics play an important role in sportswear as it impacts your workout. Many of us think 100% cotton is the best for a workout as it absorbs sweat easily and retains moisture. Which is partially wrong! Cotton fabrics make you feel damp, heavy, and clingy by absorbing sweat. The material of your sportswear can make a difference after a workout. Moisture Wicking- Invest in moisture-wicking, breathable fabrics, as they allow your sweat to evaporate quickly and maintain your body temperature. This is one of the essential factors for sportswear. Fabrics like Cotton, spandex, polyester, microfiber, bamboo, synthetic, and nylon are best for sportswear.
2. Are activewear and sportswear the same?
No, activewear and sportswear have major differences when it comes to utility. Sportswear is specifically designed for sports purposes. While activewear is for transitioning from a workout to a casual active lifestyle. Clothes like hoodies, sweatshirts, parkas, and joggers are activewear. Clothes designed for specific sports like skiing and swimming that have thermal properties, stretchability, and water resistance are considered sportswear.
3. What does sportswear mean in fashion?
Sportswear came into existence in the 18th century. It immediately became popular and contributed a lot to the development of the fashion industry. Over the years, the concept of sportswear has dramatically changed since fashion is a combination of simplicity and multi-functionality. Today sportswear has become a daytime fashion. It all started when two tennis stars — Jane Regny and Suzanne Lenglen decided to include sporty clothing in collegiate style. From then on, activewear became popular among people around the world.
4. What age group buys the most activewear?
The activewear audience is 60% women and 40% men on average if we look at demographics. Global surveys suggest that GenX (ages 35-44) spends more on activewear than Millenials (ages 25-34). Young adults (ages 18 -24) also prefer purchasing activewear.
5. How do you wash sweaty sports clothes?
Since most sports clothes are made of breathable synthetic fabrics like nylon, polyester, and elastane, machine drying/tumble drying them is not necessary. These fabrics have great durability, moisture-wicking, hydrophobic and quick-drying properties. Here are 5 simple steps to wash your sportswear. Air-dry the sweat off your sportswear. Turn it inside out. Wash in cold water. Add scent boosters if needed. Avoid machine drying.
6. Can I wash gym clothes in the washing machine?
Yes, you can. But avoid machine drying your sportswear. Agitation and extreme heat will damage the fibers and amplify odors. Instead, just let your gym clothes air dry.
Related Blogs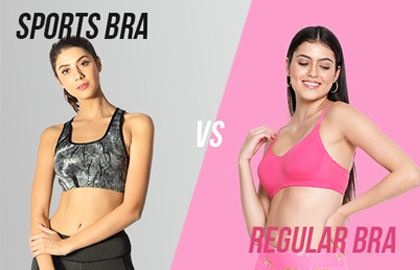 Sports bra size is the same as regular bra. Sports bra come in S, M, L, XL, and XXL sizing whereas regular bra sizes are measured based on band and cup size.
READ MORE