T-Shirt bra - T shirt bra is the most used bras as they can be worn under many outfits without any fuss. T Shirt bra comes in styles like casual, backless, front open, moulded, printed & more.
(Or) Buy 2 @MRP Get 3 Free

(Or) Buy 2 @MRP Get 3 Free

(Or) Buy 2 @MRP Get 3 Free

(Or) Buy 2 @MRP Get 3 Free

(Or) Buy 2 @MRP Get 3 Free

(Or) Buy 2 @MRP Get 3 Free

(Or) Buy 2 @MRP Get 3 Free

(Or) Buy 2 @MRP Get 3 Free

(Or) Buy 2 @MRP Get 3 Free

(Or) Buy 2 @MRP Get 3 Free

(Or) Buy 2 @MRP Get 3 Free

(Or) Buy 2 @MRP Get 3 Free

(Or) Buy 2 @MRP Get 3 Free

(Or) Buy 2 @MRP Get 3 Free

(Or) Buy 2 @MRP Get 3 Free

(Or) Buy 2 @MRP Get 3 Free

(Or) Buy 2 @MRP Get 3 Free

(Or) Buy 2 @MRP Get 3 Free

(Or) Buy 2 @MRP Get 3 Free
Next
What is a T-Shirt bra?
T-shirt bras are designed bras to wear under a t shirt or fitted outfit but they are also suitable to wear daily. They're also called tee shirt bras. These daily use t shirt bras are designed to shape your bust and conceal lines without any seams or laces on them. So, t-shirt bras are more supportive, comfortable, and the best bra for t shirts. In tee shirt bra we have a seamless t shirt bra and padded t shirt bra.
T-shirt bras with padding, seamless construction, and underwire support are available to provide adequate support and a smooth appearance.
A Flirtatious Companion To Woman's Wardrobe Stable
A lingerie friend of yours came into fashion nowadays. Yes! We are talking about the trendy yet attractive T-shirt bras. This pretty dude is known for its smooth base and delightful comfort, called by diverse names such as contour bra, t-shirt bra, Tee bra, T bra, shaper bra, and seamless bra. The bra for a T-Shirt is seamless and has molded cups hence, it gives a smooth outlook without revealing the bra line through your t-shirts, kurtas, and tunics. Full coverage T-shirt bras can be worn even with back low neck saree blouses as many of the t-shirt bras has detachable straps option. Similarly, a Padded t-shirt bra gives proper nipple coverage. These pretty bras for t-shirts are a must-have. True to the fact that the names are uniquely and perfectly matches the featuring of this brassiere. Every woman's wardrobe shows up with this fashionable Tee bra, versatile in nature, a great foundation to daily wear loose fittings and workwear form fittings. As bra legends meant, the right fit makes a great difference, this fabulous lingerie piece creates a flow of comfort and support to the woman. When going to shop this t shirt bra in traditional lingerie shops, you may find only certain styles with limited features but on online t shirt bra sites, you will come across many bra manufacturers and brands that have their way of defining this shaper t-shirt bra.
Styles To Go For The Trendy T -Shirt Bra
Bringing modest to outfits, this lightweight brassiere is an ideal compact for your form-fitting tops clinging to the body neatly avoiding certain bumps and lumps from shown. May it be a fine lace skater dress or a tight-fitting tank top, this wonder seamless t-shirt bra plays magic moving invisibly to your glimpse. Women for all sizes and ages love going with this gracious bra type because of its optimal support and comfort, creates a smooth silhouette to the wearer. In shyaway, you will find many options suiting all bust typed women. Right from lightly padded bra type to underwired bra styling, all are available in unlimited assortments in pleasing prints and luxe lace offering the fancy and fetching glance.
T-shirt Bra Types:
Molded tshirt bra: This bra gives ample support and is seamless. Suitable for heavy bust women.

Pushup t shirt bra: This bra has padded cups to lift and push the busts upwards, and offers excellent cleavage on any outfit.

Underwire t shirt bra: They provide great support, comfort, and shape. Suitable for women with heavy busts.

Wireless t shirt bra: This wireless bra is lighter weight and gives a natural shape to the bust. They are very comfortable to wear daily and suitable for smaller bust women.

Front open t shirt bra: This bra has a front opening clasp provided between the breasts. Looks stylish with a plunge neckline line and can be worn under low neck or v- neck dresses.
Benefits of t shirt Bra:
The main advantage is that they do not show any seams when worn under the most clingy clothes.

T shirt bras have seamless cups and are virtually invisible under any outfit.

T-shirt bras give the bust a natural lift and shape. As a result, women of various bust sizes and shapes can wear.

T-shirt bras are molded, and bra cups contour to provide a rounded appearance while enhancing the natural shape of the bust.

T shirt bra is smooth and soft, providing maximum comfort and support for your breasts.

They can also be worn while exercising if a sports bra is not available. This t-shirt bra offers adequate support and holds the bust in place.

They are made of various fabrics such as cotton spandex, lace, nylon spandex, and polycotton spandex.

It is an excellent everyday bra because it is versatile and comfortable.
Frequently Asked T-Shirt Bra Questions
T-Shirt Bra For Women Faqs
1. What is a T-Shirt bra?
It is quite a thing that there is a special category of bras for T-shirts. That evidences that T-shirts are the popular choice of clothing.
T-shirts, in general, are made of really thin fabrics and they are oftentimes body-hugging. For these two reasons, one should be extra careful with the type of bra worn underneath. A regular bra only gives support and shape to your breasts; they are non-padded and seamed. Buy a T-shirt bra has moulded cups, do not have seams, and sometimes have underwire. Moulded cups are different from padded cups because the former retains its shape. T-shirt bras also conceal the nipples, give full coverage to the breasts, and show no bra lines. One can be comfortable and confident in a T-shirt bra for the stated reasons.
However, this bra can be an excellent choice under any clothing that is light, thin, or tight-fitting.
2. How to select a good T-Shirt bra?
The T-shirt bra will have moulded cups, light padding and will be seamless; which means no bra lines will be visible from outside. It is meant to be worn under fitted clothes, thin fabrics and of course T-shirts. Apart from these, they make your breasts full shapelier, and rounded.
When you are shopping for T-shirt bras, make sure these features are present in them. Even a normal padded bra can come off as T-shirt bras but they won't be any use when you are wearing a T-shirt.
3. A contour bra or a T-Shirt bra; what's the difference?
There is quite a difference between a Contour bra and a T-shirt bra. The structure, fit, function, and design are not only different but are contrary to each other.
While all T-shirt bras are contouring, not all contour bras are T-shirt bras. A t-shirt bra is designed to shape your breasts and look seamless. The difference lies in the padding and the function. All T-shirt bras are made of contour cups (when the cups are moulded), and they have a very thin layer of padding, but contour bras have considerably thick padding. The purpose of a T-shirt bra is to just shape the boobs and provide a seamless, invisible look from the outside. Whereas a contour bra is designed to enhance the shape and make it rounded. A T-shirt bra gives full nipple coverage and is appropriate for fitted clothes. But both these bras retain their shape even when they are not worn.
4. What are the benefits of wearing a T-Shirt bra?
T-shirt bras are very commonly used by women and are known for their exemplary benefits. Wearing an authentic T-shirt bra gives you a very smooth look around your busts and also a good definition of your breasts. The T-shirt bra gives full coverage and will reveal no bra lines. Since your nipples will be concealed through the padded, you can wear the bra underneath tight-fitting clothes and thin fabrics. They are also appropriate for formal occasions because you want to look your best and be comfortable.
In a T-shirt bra, you can be assured and feel secured in anything you wear on the outside; it expands your choices of clothing. Have no embarrassing moments of looking down to check how your breasts look from the outside. For best results, buy pastel or nude colored T-shirt bras so that the color doesn't show through your thin and tight clothing.
Related Blogs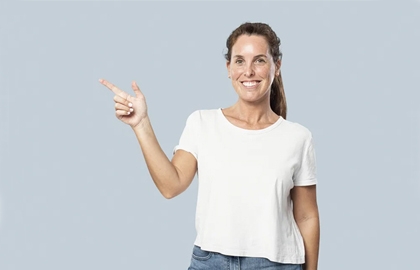 Tired of wearing the usual white bra under your white t-shirt? We are here to rescue you with the best bra colours to flaunt under your white t-shirt!
READ MORE