Babydoll : Babydoll dresses are the epitome of sexy lingerie. Get this intimate which is available in different styles, colors & sizes to spice up your mood with a bridal lingerie set.
Babydoll & Chemise Sleepwear Online
Why Shop Babydoll At Shyaway
When it comes to shopping for babydoll dress for honeymoon, comfort also plays a significant role, along with the essence of beauty. A baby doll dress is one such lingerie item that enhances your bodyline while adding a touch of glam. Shyaway keeps in mind the fashion needs of changing trends and aims to provide the best-crafted sexy nighties along with an enticing bra collection at affordable prices.
The exclusive collection includes almost every type of fabric, pattern, print, and stitching involved. This makes it easy for women to choose the ideal pick according to their tastes and preferences to sizzle the evening with grace. Let's plunge into the world of sexy lingerie and throw the limelight on every attribute of these hot sleep dresses.
Types of Babydoll
The preferences of each woman differ on how much coverage is the best choice for their body types to flaunt sexiness with confidence. Based on the length of these night dresses, the designs and patterns vary.
Ravishing Calf-length Babydoll
How gorgeous would it be to flaunt a night dress with a halter neck? With the combined glam of mesh and spandex fabrics, a translucent look is attained with the babydoll dress that extends to the calf of your leg with perfect locking done at the rim.
Beautiful gatherings at the lower back tug the skin softly and hold the dress firmly to the body. This creates a gorgeous appeal and a slightly taller outlook. The dress is as light as air, retaining the natural shape of the adorable body line at ease.
A hot deal that comes with this tempting package is a g-string panty. So you don't have to look for a panty to match your sexy baby doll. This calf-length nightwear comes in a vibrant palette of radiant colours to choose from. The whole look is completed with a bold, bright lip colour to go with the shade of your mesmerising lingerie.
Enchanting Babydoll in Full-length
If you are looking for apparel to show off your long legs with a poetic feel, then this is the right choice to make. This is one of the most popular styles in recent times as it highlights all the curves throughout the length of the body. When the lovely women out there buy babydoll nightdresses, the lace-worked ones become the first choice because of the light feel and royal touch that they add to the whole look. The attractiveness is enhanced when it extends the entire length.
The ruffled neckline on this garment is incredibly delightful, adding a cute and feminine edge to the overall look.A beautiful twist to this full-length sensual lingerie collection is the robe-type dress that comes in a dashing orange with a front opening. A pair of high-heeled footwear is the perfect complement to this striking look.
Dreamy Mid-length Babydoll
If you are a fan of short night dresses to show off some skin, then this is the ideal piece to look for. These dresses extend to mid-thigh, giving a bold and dashing feel. So it will be preferred as an ideal babydoll dress for the honeymoon.
Night suits with mesh fabrication are an enchanting experience to indulge in. The fabric is so light and glides swiftly on the skin, giving a barely-there feel.
A good bra from Shyaway will complete the look as it already comes with a g-string panty as in the cases of all the babydoll lingerie on the site. There are plenty of prints to choose from, and so selecting your favourite babydoll dress for a wedding night is now a hassle-free experience. Women always prefer a good number of products to pick the one they love. Be it hearts or florals, the choices are endless.
The satin babydoll is mostly liked by most people. A splash of satin fabric on these dresses gives them a sheer look, leaving you in awe of yourself. These pieces are not only meant for bridal or honeymoon picks, but are also a good option while you go on a vacation as good sleepwear.
Talking about the neck type of these nightgowns, the ruffled pattern gives a hot and royal vintage look. The V-neck remains the most desired pattern with the spellbinding cleavage it offers.
Babydoll set in Striking Colours
Be it creating a bold statement or lounging around on a breezy evening, these picks come in a wide variety of shades. Red is always highlighted when it comes to love. It is also the most striking hue in the colour palette considering the attractive tone it creates. Without a doubt, it is the ideal choice to be fabricated in a sensual and sexy babydoll dress and a sexy night dress.
With the combination of animal prints, a red babydoll does wonders to create an enticingly charming look. In contrast, a breezy and subtle look is achieved by alluring babydoll nighties in pastel shades such as green and powder pink. When a touch of frill is added to it, the combination creates an irresistible light feel.
Apart from these shades, black is a captivating colour when it comes to making hot night dresses for ladies. This bewitching shade is chosen by most lingerie brands in manufacturing their best pieces of lingerie.
Nightwear Suitable for Honeymoon
If you are worried about the fitting of a babydoll, then here is your guide. This sexy night dress and sexy babydoll dress collections are available in a wide range of dreamy sizes, from XS to L. This can easily be figured out with the size chart that is available on the site. Since it is good sleepwear, it is recommended to go in for the perfect fit along with creating a style statement.
Considering this, some of these apparels come with adjustable spaghetti straps to sit perfectly on the skin without causing any irritation. Some of the regular straps come with a criss-cross back to create a striking appeal.
The L-size lounge dresses mostly come with halter necks and a dashing satin bow, making them flaunted with ease by gorgeously curvy body lines. Not just to stop with newlyweds, these make good sleeping dresses for young mothers as well. Because of the loose body fit and soft fabric, it could also serve the purpose of a relaxed nightie for mothers to flaunt along with a nursing bra. This unique combination is a marvel for every mother to experience a state of repose.
Why are Padded Babydolls preferred?
There is often a dilemma about what bra to wear under a babydoll. The choice is wide and solely depends on every woman's individual lingerie preferences. If you are someone who wouldn't want to wear a bra with your sexy nightdress but still wants to have the optimum support that a bra provides, then you can always move to a padded babydoll.
The soft padding that comes along with these sexy nighties enhances the look of the busts, making them look as large and natural as possible. The padded cups will bring out a confident and gleaming personality on your special evening. This feature also adds a relaxed feel without having to worry about exposing your bra straps along your shoulders. Your lounge hours are best adorned with these finely padded sexy nightwear sets that add more glam and leisure to your endearing lingerie closet.
Babydoll Washcare Guide For Durability
It is very important to take good care of every piece of intimate lingerie. Every penny that you spend is made worth it when the apparel is maintained for durability. A machine wash could be harsh on the delicate pieces of sheer babydolls and could affect the sheer texture.
Every inner on shyaway.com comes with a wash care guide. It is highly recommended to wash your favourite honeymoon night dress by hand with a light detergent to maintain the colour and smoothness of the cloth. As these nightwear apparels come with intricately tailored frills and laces, maintenance plays a key role.
Perhaps one could use a laundry bag that is available on our site to do a machine wash if you don't find time for washing by hand. Similarly, hot ironing and dry cleaning can damage the soft craft of the fabric, so air drying is the best option to keep them at ease.
Attractive Offers on Babydoll
Are you looking to buy baby doll nightwear online? Shyaway, being one of the largest online lingerie shopping stores in India, is the ultimate destination to grab one because of the most attractive offers on sexy night dresses.
A striking offer of (save up to 35%) is a smashing deal among all the online shopping websites in India. It doesn't end with just this. Just subscribe to our newsletters as Shyaway keeps offering new deals on hot lingerie sets every season.
Babydoll Faqs
1. Do you love wearing babydoll/chemise to bed?
Babydolls and chemises are boudoir lingerie and are meant to be worn in bed. Any girl would love to wear a babydoll, and so do I, as it makes me look sexy. It enhances my body's natural beauty and emphasises my curves. I love the way the fabric moves along my body. When I wear a babydoll or chemise, it is a perfect balance between freedom and restriction, which I love the most.
2. why babydoll dresses are so Comfortable?
Babydoll dresses are the most comfortable nightwear. It sets the perfect balance between allowing your body to move around while restricting it in some places to make you look more feminine and give a soft hug to your curves. The mesh and lace fabrics let your skin breathe freely. The touch and feel of the soft mesh and lace against your skin will give an extraordinary feel.
3. Do you wear babydoll dresses when youre sleeping?
I wear babydoll dresses when I sleep as they are very comfortable piece of nightwear. It is soft on the skin and allows movement without restriction. It makes me feel pretty and more feminine. It's not like you have to wear a babydoll only on your honeymoon and during intimate moments with your partner. A babydoll is a very good choice to make you sleep cosy and comfy. But a babydoll is not the only nightwear I love. Next to babydolls, the most comfortable nightwear is a pyjama set. The soft cotton and simple silhouette are perfect to put me to sleep.


Related Blogs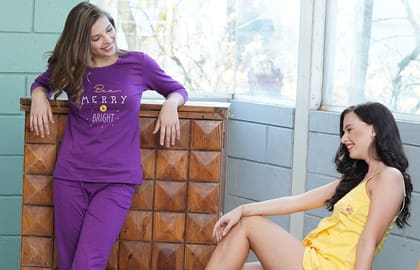 Whatever your mood is, Shyaway's latest nightwear collection will keep you smiling all day. Find these styles of nightwear to suit your mood.
READ MORE