Babydoll : Babydoll dresses are the epitome of sexy lingerie. Get this intimate which is available in different styles, colors & sizes to spice up your mood with a bridal lingerie set.
Babydoll & Chemise Sleepwear Online
what are babydolls
Babydolls are a type of lingerie or sleepwear that are typically loose-fitting, short, and often have a flared skirt. They are designed to be worn as a nightgown, often with matching panties. Babydolls can be made from a variety of materials such as silk, satin, lace, or cotton.
They often feature feminine details such as ruffles, bows, or embroidery. Babydolls are designed to be comfortable, lightweight, and easy to wear, making them a popular choice for sleepwear or for special occasions. They can be found in a range of sizes and styles to suit different body types and personal preferences. Babydolls can be a great way to feel feminine and confident, while still being comfortable and relaxed.
Types of Babydoll Chemise Sleepwear
Satin Babydoll Chemise Sleepwear
Satin babydoll chemise sleepwear is perfect for those looking for something sensual and elegant. Made from soft, silky material, these pieces drape beautifully on the body, creating a flattering and feminine silhouette. They often feature intricate lace detailing, delicate straps, and subtle bows, making them perfect for special occasions or romantic nights in.
Lace Babydoll Chemise Sleepwear
For a more romantic and delicate look, lace babydoll chemise sleepwear is the perfect choice. These pieces feature intricate lace detailing and sheer fabrics, creating a sensual and feminine look that is perfect for a special occasion or for everyday wear. They often come in a range of colors and styles, so you can find the perfect piece to suit your personal preferences.
Sheer Babydoll Chemise Sleepwear
Sheer babydoll chemise sleepwear is perfect for those looking for something playful and sexy. Made from lightweight, see-through fabrics, these pieces are designed to show off your curves and make you feel confident and desirable. They often feature intricate embroidery or lace detailing, and may come with matching panties for a complete lingerie set.
Cotton Babydoll Chemise Sleepwear
If you prefer something comfortable and easy to wear, cotton babydoll chemise sleepwear is the perfect choice. These pieces are lightweight and breathable, making them perfect for warm nights or for lounging around the house. They often come in simple, classic styles, and can be dressed up or down depending on the occasion
Babydoll Dress Online Faqs
1. Do you love wearing babydoll/chemise to bed?
Babydolls and chemises are boudoir lingerie and are meant to be worn in bed. Any girl would love to wear a babydoll, and so do I, as it makes me look sexy. It enhances my body's natural beauty and emphasises my curves. I love the way the fabric moves along my body. When I wear a babydoll or chemise, it is a perfect balance between freedom and restriction, which I love the most.
2. why babydoll dresses are so Comfortable?
Babydoll dresses are the most comfortable nightwear. It sets the perfect balance between allowing your body to move around while restricting it in some places to make you look more feminine and give a soft hug to your curves. The mesh and lace fabrics let your skin breathe freely. The touch and feel of the soft mesh and lace against your skin will give an extraordinary feel.
3. Do you wear babydoll dresses when youre sleeping?
I wear babydoll dresses when I sleep as they are very comfortable piece of nightwear. It is soft on the skin and allows movement without restriction. It makes me feel pretty and more feminine. It's not like you have to wear a babydoll only on your honeymoon and during intimate moments with your partner. A babydoll is a very good choice to make you sleep cosy and comfy. But a babydoll is not the only nightwear I love. Next to babydolls, the most comfortable nightwear is a pyjama set. The soft cotton and simple silhouette are perfect to put me to sleep.


Related Blogs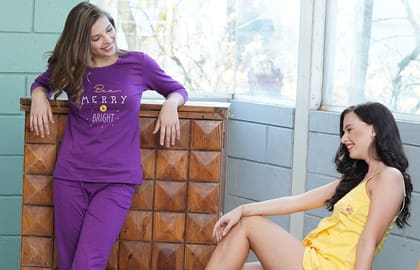 Whatever your mood is, Shyaway's latest nightwear collection will keep you smiling all day. Find these styles of nightwear to suit your mood.
READ MORE