Night dress- Match your mood, season, or style with our most relaxing sleepwear collections. Find the best nightwear for women online that also offers a fashionable and sexy look.
The Ultimate Buying Guide for Women's Sleepwear and Nightwear
When it comes to nighttime comfort and style, choosing the right sleepwear and nightwear is essential. Whether you're looking for cozy winter sleepwear, sexy nightwear sets, or comfortable loungewear, this buying guide will help you make the best choices for a good night's sleep. Explore the wide range of options available online and find the perfect nightwear that suits your style and preferences.
The Importance of Quality Nightwear
Quality nightwear goes beyond just looking good. It contributes to your overall sleep quality and comfort. Here are some key factors to consider when shopping for women's sleepwear:
Fabric Matters
The choice of fabric plays a significant role in how comfortable your sleepwear will be. Here are some common options:
Cotton Nightwear: Cotton is breathable, soft, and ideal for all seasons. It's perfect for ladies' cotton nightdresses and sleepwear sets.
Satin Sleepwear: Satin adds a touch of luxury to your nightwear. It's smooth, shiny, and perfect for special occasions.
Flannel or Fleece Sleepwear: These materials are excellent for winter sleepwear. They keep you warm and cozy on chilly nights.
Style and Design
Nightwear comes in various styles and designs to suit different tastes. Some popular options include:
Nightdresses: Elegant and comfortable, nightdresses are perfect for a good night's sleep.
Sleepwear Sets: Matching sets often include a top and bottoms, providing a coordinated look.
Babydoll Nighties: These short, loose-fitting nightgowns are both cute and alluring.
Comfort and Fit
Choose sleepwear that fits comfortably and allows you to move freely. Consider buying a size up for a relaxed fit, especially if you prefer loose nightwear.
Best Picks for Different Seasons
Winter Sleepwear
When the temperature drops, you'll want sleepwear that keeps you warm and snug. Look for:
Flannel Pajamas: Perfect for cold nights, flannel pajamas are soft and insulating.
Thermal Tops and Leggings: These provide extra warmth without adding bulk.
Summer Sleepwear
For hot and humid nights, opt for lightweight and breathable options:
Cotton Nighties: A breezy cotton nightdress is an excellent choice for summer nights.
Sleep Tee and Shorts: Comfortable and stylish, sleep tees with shorts keep you cool.
Sexy Nightwear
Whether you want to spice things up or simply feel confident and alluring, consider:
Lace-Trimmed Nighties: These add a touch of sensuality to your sleepwear collection.
Satin Chemises: Silky satin chemises are a timeless choice for romantic nights.
Where to Buy Women's Nightwear Online
Shopping for women's nightwear online offers a vast selection and the convenience of browsing from the comfort of your home. Here are some popular options:
Buy Nightwear Sets in India: Explore a wide range of nightwear sets tailored to Indian preferences and seasons.
Sleep Tee for Women: Look for trendy sleep tees designed for maximum comfort and style.
Nightwear Shopping in India: Discover a variety of nightwear options suitable for the Indian climate.
Nightwear Brands in India: Trusted brands in India offer a range of nightwear collections to choose from.
Special Occasion Nightwear
Sometimes, you need nightwear that's a little extra special. For those occasions, consider:
Babydoll and Robe Sets: These sets offer a combination of elegance and allure.
Camisole and Slip Sets: Perfect for a romantic night in or a honeymoon.
Affordable Nightwear Options
Quality nightwear doesn't always have to break the bank. Look out for:
Nightwear Sale and Discounts: Many online stores offer regular sales and discounts, allowing you to grab stylish nightwear at affordable prices.
Conclusion
Investing in high-quality sleepwear and nightwear is an investment in your comfort and well-being. Whether you prefer cozy cotton nightdresses, sexy satin sets, or practical sleep tees, there's a wide range of options available online to cater to your preferences.
Remember to consider the fabric, style, and season when making your choice. With the right nightwear, you can look forward to peaceful and restful nights, ensuring you wake up refreshed and ready to take on the day.
So, why wait? Explore the latest trends in sleepwear, upgrade your nighttime wardrobe, and experience the joy of comfortable and stylish nightwear sets tailored to your needs and preferences. Happy sleeping!
Night Dress and Sleepwear For Women Faqs
1. What Kind of Sleepwear Is Better?
You have to choose your sleepwear according to season and occasion.
Humid weather warrants a

cotton nightgown dress

or a short set

A sexy babydoll with a robe is the best choice for intimate times.

A

nightgown

is a very good option as it is light and comfy.

Women's cotton nightgowns

with funny phrases, cute animal prints are in trend.

Pick a lace camisole and shorts to feel cozy as well as sexy
2. Where to Buy Sleepwear Online?
The best place to buy sleepwear online India is Shyaway.com, an exclusive online store for women lingerie which caters to all your lingerie needs in one place. Buy sleepwear of different styles like slim and sleek chemises, camisoles, cute capris sets, pretty nightgowns for women, comfy pyjama sets, short sets, hot and sexy babydolls, cool tank tops, and loungewear at the best price on offer and save big money.
3. What You Should and Shouldnt Wear to Bed?
Wear loose-fitting

nightwear

to bed preferably a single layer one.

Don't wear bras while you sleep. But a bralette and bandeau bra are very thin and lightweight and you can wear them if you want

Don't wear tight body-hugging clothes on the bed

Don't wear too many layers as it will stop the air circulation moisture absorption.
4. Which Fabric Is the Best for Nightwear?
Cotton is the best-suited fabric for nightwear in India. But in extremely cold conditions, Wool or Fleece(synthetic wool alternative) is the best choice. However, most of the sexy nightwear for women is made up of lace or mesh, satin fabrics that are best for honeymoon. It is better to have each nightwear for honeymoon made of different fabrics to satiate seasonal and occasional needs.
5. What Type of Nightwear Is Comfortable to Sleep for Women?
Women usually prefer knitted cotton nightgowns and pajama dresses as a nightwear and it is lightweight and skin-friendly. Short sets are very comfortable for women as it is made up of pure cotton and airy. Women can wear a Capri set as loungewear also as it is not exposing much and available in cute prints. A babydoll is very comfortable for a feel-good cozy night.
Related Blogs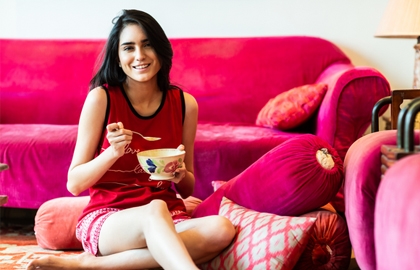 Nightwear plays an important role in every woman's life. The clothes are specifically designed to provide the relaxation and comfort one deserves,
READ MORE