Push up Bras - Get the latest and widest range of sexy push up bra online, like from level 1 to 3 padded push bra. Choose your push up bra with various sizes, brands and colours.
(or) Buy 2 @MRP Get 3 Free

(or) Buy 2 @MRP Get 3 Free

(or) Buy 2 @MRP Get 3 Free

(or) Buy 2 @MRP Get 3 Free

(or) Buy 2 @MRP Get 3 Free

(or) Buy 2 @MRP Get 3 Free

(or) Buy 2 @MRP Get 3 Free

(or) Buy 2 @MRP Get 3 Free

(or) Buy 2 @MRP Get 3 Free

(or) Buy 2 @MRP Get 3 Free
Push Up Bra For Women
Anatomy of a Push-Up Bra
Today, the push-up bra, or lift up bra, has become every woman's wardrobe staple. There is a wide range of bras like t-shirt bras, strapless bras, etc. However, most women prefer push-up bras. The purpose of the bra is literally to 'push up' the breasts, enhancing the cleavage, and hence, you could also call them a cleavage bra.
This designer bra is stylish, enhances your cup size, and is a popular choice not just for small-busted women but also for fuller ones.
The Precursors to Today's "Push Up Bra'
It was during the 15th and 16th centuries when women were fond of girdles and corsets to give a push-up effect to the breasts. Street dancers, drama queens, and actresses started posing their bosoms beautifully in blushing gowns with these shaping garments.
Later, fashion evolution happened, giving birth to the first brassiere in the year 1889 to provide support and comfort to the breasts. Years passed, and in 1964 came the Wonderbra. Invented by Louise Poirier, the bra took over the lingerie industry by storm as it replaced girdles, corsets, and other uncomfortable shaping garments.
Why Push Up Bra?
A pushup bra is very well known for its paddings that are either made of soft foam, water, gel, or silicone, and it's one of the kinds of sexy bras. The padding feature in its cups that is designed to enhance the bust comes in three different levels, namely levels 1, 2, and 3. And depending on the shape of the cups, they are cut into demi-cup, plunging, or balconette styles.
For convenience, Shyaway has a certain type of bra with removable padding, providing you the option to either add or remove it as per requirement. Talking about padded bras with pushup cups, it is no surprise that today, even sports bras have this feature.
Types of Push-up Bra
Their padding levels mostly recognise push-up bras. The pads in the push-up bra provide excellent support. There are 3 different levels of padding: light, medium, and heavily padded push-up bras. These pads reside at the bottom and push your bust inwards to create a natural lift to give a sexy appearance
Levels in Push up Bra
| | | | |
| --- | --- | --- | --- |
| | Level 1 | Level 2 | Level 3 |
| Padding Level | Light - ⅓ rd of the bra is padded and adds ½ cup size | Medium - padding ends just below the nipple and adds 1 cup size | Heavy - extreme push and adds 2 cup sizes |
| Features | It gives gentle and natural lift | Provides sexy lift with cleavage | It gives your bust a perfect fuller look |
| Suitable for | Heavy breasted women | Women with wide breasts | Small Busted Women |
Level 1 - By wearing a level 1 push-up bra, you will get a natural lift to your breasts as they are crafted for a gentle lift to full and semi-full-breasted women.
Level 2 - This level 2 push-up padded bras are designed for slightly visible breasts. If you have a wide or visible gap between your breasts, then this type of padding bra will help you with better cleavage and natural lift.
Level 3 - This level 3 push-up padded bra is meant for women with smaller breasts. These push-up padded bras will give you a fuller look with better cleavage. You can calculate your size using the Shyaway bra size calculator.
Push-Up Bra styles
Many of us face the problem of having to find a bra that goes with plunging neckline tops and low-cut lehenga blouses. Push-up plunge bras are your saviours in such situations. The neckline is cut low with front fasteners and adequate padding. You can also find racerback styles in this sexy padded bra to give a makeover to your backless dresses.
What is Push Up Half Bra?
A half bra is also known as a shelf bra or a Balconette bra, with cups that cover half or three-quarters of your bust. This push-up bra set doesn't give full coverage, breasts appear pushed upward, making them appear fuller and rounder naturally
What is the use of a push Up Bra?
Push-up is provided with extra padding and an underwire (underwire bra). Extra padding gives more volume to the breasts, and the underwire helps to lift the bust. Based on the wiring, it is classified as a wired or non-wired bra.
Push-up bras are the best bras for cleavage and are also known as "sexy push-up bras" because they help create visible cleavage. So, it's also called a lift-up bra.
Based on padding, there are three types of push-up bras:
Light level padding for heavy busts like a push-up bra

Medium level padding like double push-up bras

Push-up bras with extreme boost and heavy-level padding for small breasts
Push-Up bra is for everyone
It is a myth that women only wear push-up bras with small busts. In reality, a padded bra with pushup cups can be worn by everyone, irrespective of their breast size and shape. These also come in handy for women who lose their breast firmness after pregnancy or aging. So it's also considered everyday wear.
Is the Push-up bra for Sagging?
The women's push-up bra is specially designed for mothers. You can buy push-up bras online on Shyaway, which has push-up bra combos and also many other types of bras like adhesive push-up bras, nude push-up bras, and transparent push-up bras.
Low coverage push-up bras are none other than plunge bras, which create a sexy appearance. One can buy push-up bras like silk push-up bras for an elegant look and hot push-up bras for a sexy look.
Where to buy a Push Bra?
If you are looking for an affordable way to buy push-up bras online, shyaway.com could be your ultimate destination. With an exclusive range of women's push-up bras in India, there is an option for everyone out there.
Push Up Bras Faqs
1. How to Buy a Push-Up Bra?
Discover the euphoria of well-fitting bras! Grab that inch tape and find your exact bra size with Shyaway's Bra Size Calculator. Once you've determined the size, decide what type of push-up bra you want. If you are looking for contouring and a subtle lift, explore our Level 1 push-up bras. They have light angular padding at the bottom of the cups to help you achieve this effect. If you want to give your bust a boost and make it look rounder, pick our Level 2 push-up bras - the padding at the bottom of the cups is thicker than in their Level 1 counterparts. Level 3 push-up bras are crafted with very thick angular padding that pushes your breasts up to make them look larger, even up to two cup sizes. Choose from stunning styles: racerback, front open, lace, prints, solid colors – you name it and we have it.
2. Can Push-Up Bras Prevent Breast Growth?
No. Brassieres are not designed to aid the growth or decrease the size of breasts. The function of a push-up bra is to push your breasts up, making them look fuller, rounder and in some cases, bigger. A push-up bra does not prevent or promote breast growth.
Women with small breasts will find push up bras to their advantage. However, they need not fear that the use of push up bras will arrest the natural growth of their bust. The importance of buying a well-fitting push-up bra cannot be emphasized enough. While this is a very flattering style, it might be a good idea to use push-up bras in rotation with other types of bras. This has two benefits:
(1) It ensures your breast tissues are not stressed.
(2) It gives the bra some rest and helps it retain its shape longer, increasing its life.
3. What Is the Use of a Push-Up Bra?
A push-up bra contours and lifts your breasts, making them appear curvier. By pushing your breasts up, it creates an appearance of a deeper cleavage. A valuable inclusion in the push-up bra is the underwire which provides necessary breast support.
The common misconception is that push-up bras are meant exclusively for women with small bust or cup sizes. While this is an excellent design for small breasts, there is no reason why women with bigger busts cannot enjoy the benefits of a push-up bra. It gives beautiful definition to cleavage, keeps the embarrassment from sagging at bay, and provides outstanding support.
Choose from the three levels of padding to find a product that matches your needs. Be it a gentle lift, deepened cleavage or extreme push up, there is a bra created just for you. These days, even sports bras and swimwear with push-up padding are quickly becoming commonplace.
4. How to Wear a Push-Up Bra Correctly?
So, we already know that a push-up bra gives your little girls lift, cleavage and more volume. They are crafted with molded cups that carry angled padding to push up the breast tissues. Women's Push-up bras are usually preferred for special occasions or date nights when you wear low-cut blouses or dresses. You can also wear these for work under western formals or with deep-neck tees. This is a great style for brides and bridesmaids, making their curves look flattering on a momentous day.
Though many bra styles come with detachable straps, once you remove these, you'll find that they don't support your breasts. If you take the straps out of a push-up bra though, you will notice that your breasts are beautifully supported by the underwire, bra band, and the padding. You can wear your push up bras with confidence under strapless or off-shoulder gowns and tops.
5. How Are Push up Bras Made?
Push-up bras are constructed with angled demi-cups which carry pads that push the breasts up. The special padding in these bras varies in intensity from light to heavy. In addition to this, the fabric, material, and degree of the bump padding can be different. Lined with very light pads, Level 1 push-up bras are perfect for everyday wear. You would be comfortable in these all day long. Level 2 push-up bras are molded with extra padding at the bottom of the cups. This gives a modest lift and a better definition of your cleavage. Ultimate lift and definition can be achieved with Level 3 push-up bras. These heavily padded beauties give a dramatic lift to the breasts and make them appear one or even two cup sizes larger.
The most common padding material is foam, however, some brands offer push up bras with silicone, water, and oil padding also.
Related Blogs
Do you want to know how a push-up bra will look on you? Check out these before and after photos of women wearing push-up bras to get rid of any second thoughts.
READ MORE
More about Bras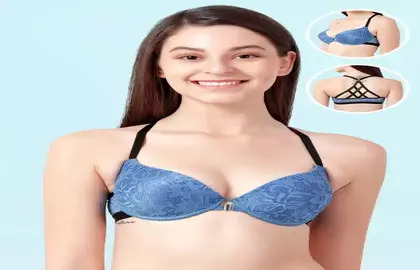 This comprehensive push-up bra guide provides detailed information, tips, and hacks on how to choose the best push-up bra for your style and comfort.
READ MORE