Push up Bras - Get the latest and widest range of sexy push up bra online, like from level 1 to 3 push up bra. Choose your push up bra with various sizes, brands and colours.
(Or) Buy 2 @MRP Get 3 Free

(Or) Buy 2 @MRP Get 3 Free

(Or) Buy 2 @MRP Get 3 Free

(Or) Buy 2 @MRP Get 3 Free

(Or) Buy 2 @MRP Get 3 Free

(Or) Buy 2 @MRP Get 3 Free

(Or) Buy 2 @MRP Get 3 Free

(Or) Buy 2 @MRP Get 3 Free

(Or) Buy 2 @MRP Get 3 Free

(Or) Buy 2 @MRP Get 3 Free

(Or) Buy 2 @MRP Get 3 Free

(Or) Buy 2 @MRP Get 3 Free

(Or) Buy 2 @MRP Get 3 Free

(Or) Buy 2 @MRP Get 3 Free

(Or) Buy 2 @MRP Get 3 Free

(Or) Buy 2 @MRP Get 3 Free

(Or) Buy 2 @MRP Get 3 Free

(Or) Buy 2 @MRP Get 3 Free

(Or) Buy 2 @MRP Get 3 Free

(Or) Buy 2 @MRP Get 3 Free
Next
The Ultimate Buying Guide to Push-Up Bras: Your Path to Irresistible Cleavage
When it comes to lingerie, push-up bras have a special place in every woman's wardrobe. Whether you want to enhance your natural curves, create a stunning cleavage, or boost your confidence, the right push-up bra can work wonders. In this comprehensive buying guide, we'll explore everything you need to know about push-up bras, from what they do to how to find the perfect one for you.
Understanding Push-Up Bras: What Do They Do?
Push-up bras are designed to lift and shape your breasts, providing additional support and volume. They typically feature padded cups and unique underwire construction that pushes your breasts upwards and towards the center. This results in a fuller and more defined cleavage, making push-up bras a go-to choice for special occasions or everyday wear when you want that extra oomph.
Why Choose a Push-Up Bra?
Enhanced Cleavage: Push-up bras are the go-to choice when you want to create a stunning cleavage that enhances your overall look.
Boost in Confidence: Wearing a push-up bra can give you a confidence boost, making you feel more attractive and self-assured.
Versatility: Push-up bras come in various styles and designs, making them suitable for different outfits, from low-cut tops to backless dresses.
Customizable Lift: Many push-up bras allow you to customize the level of lift by adjusting the straps or removable padding.
Finding the Right Push-Up Bra
Choosing the perfect push-up bra depends on various factors, including your body shape, outfit, and personal preferences. Here are some key considerations:
Cup Size: Ensure that you select a push-up bra in your correct cup size. Wearing the wrong size can lead to discomfort and an unnatural look.
Style: Push-up bras come in various styles, including plunge, full coverage, demi-cup, and more. Consider the neckline and style of clothing you'll be wearing to determine the right style.
Padding Type: Push-up bras may have different types of padding, such as silicone, foam, or gel. Each offers a different level of lift and comfort.
Underwire vs. Wire-Free: Some push-up bras feature underwire for added support, while others are wire-free for maximum comfort. Choose based on your preference.
Strap Configuration: Consider whether you need a regular, convertible, or strapless push-up bra based on your outfit.
Back Style: Backless and low-back push-up bras are available for outfits with revealing backs.
Caring for Your Push-Up Bras
To keep your push-up bras in top condition, follow these care tips:
Hand Wash: It's recommended to hand wash push-up bras with mild detergent to preserve their shape and padding.
Air Dry: Avoid using a dryer, as the heat can damage the padding. Let your bras air dry.
Rotate: Rotate between different push-up bras to allow each one to rest and maintain its elasticity.
Replace When Necessary: Over time, the padding in push-up bras may lose its shape and effectiveness. Replace them as needed to maintain the desired lift.
Where to Buy Push-Up Bras
Now that you have a better understanding of push-up bras and how to choose the right one, it's time to start shopping. You can explore a wide range of options online, including different styles, colors, and brands. Look for discounts, deals and offers to get the best value for your money.

In conclusion, a push-up bra is a versatile and confidence-boosting addition to your lingerie collection. Whether you're dressing up for a special occasion or simply want to enhance your everyday look, the right push-up bra can make a significant difference. So, measure yourself correctly, consider your style and outfit, and take good care of your bras to enjoy their benefits for a long time. Happy shopping, and get ready to embrace irresistible cleavage!
Push Up Bras Faqs
1. How to Buy a Push-Up Bra?
Discover the euphoria of well-fitting bras! Grab that inch tape and find your exact bra size with Shyaway's Bra Size Calculator. Once you've determined the size, decide what type of push-up bra you want. If you are looking for contouring and a subtle lift, explore our Level 1 push-up bras. They have light angular padding at the bottom of the cups to help you achieve this effect. If you want to give your bust a boost and make it look rounder, pick our Level 2 push-up bras - the padding at the bottom of the cups is thicker than in their Level 1 counterparts. Level 3 push-up bra are crafted with very thick angular padding that pushes your breasts up to make them look larger, even up to two cup sizes. Choose from stunning styles: racerback, front open, lace, prints, solid colors – you name it and we have it.
2. Can Push-Up Bras Prevent Breast Growth?
No. Brassieres are not designed to aid the growth or decrease the size of breasts. The function of a push-up bra is to push your breasts up, making them look fuller, rounder and in some cases, bigger. A push-up bra does not prevent or promote breast growth.
Women with small breasts will find push up bras to their advantage. However, they need not fear that the use of push up bras will arrest the natural growth of their bust. The importance of buying a well-fitting push-up bra cannot be emphasized enough. While this is a very flattering style, it might be a good idea to use push-up bras in rotation with other types of bras. This has two benefits:
(1) It ensures your breast tissues are not stressed.
(2) It gives the bra some rest and helps it retain its shape longer, increasing its life.
3. What Is the Use of a Push-Up Bra?
A push-up bra contours and lifts your breasts, making them appear curvier. By pushing your breasts up, it creates an appearance of a deeper cleavage. A valuable inclusion in the push-up bra is the underwire which provides necessary breast support.
The common misconception is that push-up bras are meant exclusively for women with small bust or cup sizes. While this is an excellent design for small breasts, there is no reason why women with bigger busts cannot enjoy the benefits of a push-up bra. It gives beautiful definition to cleavage, keeps the embarrassment from sagging at bay, and provides outstanding support.
Choose from the three levels of padding to find a product that matches your needs. Be it a gentle lift, deepened cleavage or extreme push up, there is a bra created just for you. These days, even sports bras and swimwear with push-up padding are quickly becoming commonplace.
4. How to Wear a Push-Up Bra Correctly?
So, we already know that a push-up bra gives your little girls lift, cleavage and more volume. They are crafted with molded cups that carry angled padding to push up the breast tissues. Women's Push-up bras are usually preferred for special occasions or date nights when you wear low-cut blouses or dresses. You can also wear these for work under western formals or with deep-neck tees. This is a great style for brides and bridesmaids, making their curves look flattering on a momentous day.
Though many bra styles come with detachable straps, once you remove these, you'll find that they don't support your breasts. If you take the straps out of a push-up bra though, you will notice that your breasts are beautifully supported by the underwire, bra band, and the padding. You can wear your push up bras with confidence under strapless or off-shoulder gowns and tops.
5. How Are Push up Bras Made?
Push-up bras are constructed with angled demi-cups which carry pads that push the breasts up. The special padding in these bras varies in intensity from light to heavy. In addition to this, the fabric, material, and degree of the bump padding can be different. Lined with very light pads, Level 1 push-up bras are perfect for everyday wear. You would be comfortable in these all day long. Level 2 push-up bras are molded with extra padding at the bottom of the cups. This gives a modest lift and a better definition of your cleavage. Ultimate lift and definition can be achieved with Level 3 push-up bras. These heavily padded beauties give a dramatic lift to the breasts and make them appear one or even two cup sizes larger.
The most common padding material is foam, however, some brands offer push up bras with silicone, water, and oil padding also.
Related Blogs
A push-up bra looks great under a low-cut outfit. Discover the best features of a push-up bra and why every woman should have one. Continue reading to find out more.
READ MORE
More about Bras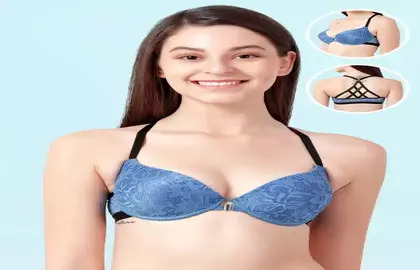 This comprehensive push-up bra guide provides detailed information, tips, and hacks on how to choose the best push-up bra for your style and comfort.
READ MORE