Cami Bra - It is the perfect choice for any girl who cannot wait to take off her Bra because, in Cami bras, she would never feel that way.
(Or) Buy 2 @MRP Get 3 Free

(Or) Buy 2 @MRP Get 3 Free

(Or) Buy 2 @MRP Get 3 Free

(Or) Buy 2 @MRP Get 3 Free

(Or) Buy 2 @MRP Get 3 Free

(Or) Buy 2 @MRP Get 3 Free

(Or) Buy 2 @MRP Get 3 Free
Next
Cami Bra
Neoteric Cami Bras
A Cami bra offers the support of a bra and the comfort of a cami. The spectacular dual-function bra is easy to wear and will soon become your best friend. These do not have hooks & eyes like our usual bras. Cami bras are highly versatile for this reason and come in the same league as bralettes.
There are various types and features in Cami bras; find your personal favorite and rock your look.
A Legion Of Options
Indulge yourself in the nothing–less–than–fabulous variations of Cami bras.The Cami bra is usually made of Fabrics nylon or cotton. They give a smooth silhouette and are good for shaping rather than for support. Cami bras are designed keeping the modern-day women in mind; who want a beautiful blend of trend and functionality.
Padded:
While cami bras are usually non-padded and do not give any kind of support, it has evolved into a Cami bra that has the specifics of one. Cami bras also come with padding to wear under your figure-hugging dresses or t-shirts and other snug clothes. Padded camis will look even and smooth from the outside and also feel amazing on the skin. Check out Shyle padded Cami bras that come in exotic hues.
Moulded:
Interestingly Moulded Bra appear similar to the padded ones but in reality, are quite different. The molds are heated on a metal surface to retain their shape and are usually made of foam. The moulded Cami bra is also seamless which means no part of the bra will be shown outside.
Fully Adjustable And Removable Bra Straps:
How often do women struggle with bra straps? Bra straps are hated so much and they become the reason many girls hate wearing bras. And needless to mention the frustration of loose straps! Shyle's Cami bras come with fully adjustable and removable straps. These enable you to adjust them as per your convenience and remove them too.
A cami bra is a sleeveless women's undergarment that extends slightly longer than the usual bra. A cami bra is referred to as a cami bra, a loose-fitting undergarment that sometimes covers larger than a regular bra and shorter than a chemise. A cami bra is made up of cotton spandex, lace, modal, and nylon spandex.
Padded cami Bra
A padded cami bra provides maximum support and full coverage. Generally wore under T-shirts and other snug clothes. Padded camis are a better choice for those who don't like to wear a bra under their garments. Padded camis give a smooth texture, and shape to your curves and also support.
Cami Sports Bra
This type of cami bra is designed with padding that absorbs moisture and drains sweat. Cami sports bras are highly elastic, comfortable, and breathable. This is the best cami bra for yoga exercise and fitness.
Lace cami Bra
A lace cami bra is the best cami bra among the others making you look sexy and stunning. This cami bra has wire-free cups with removable padding. Also gives an elegant look and full coverage for the bust.
Cotton Cami Bra
The majority of cami bras are made of cotton fabric, which makes them stretchy and comfortable. A cotton cami bra is good for sensitive skin who has skin infections and irritations. A cotton cami bra can also be used as an everyday bra or during the night as leisurewear.
Bra Under cami
We can wear a bra under a cami to provide maximum coverage and support. A seamless bra is most suitable as it avoids lines seen through the outer garment. It gives the utmost comfort and makes the wearer feel secure.
Strapless Cami Bra
One can use this cami bra as a convertible bra by removing the straps of the cami bra. You can wear it as a strapless piece.
Cami With Support & a Push-up Cami?
The underwire cami comes with a built-in cup, but these cups more closely provide you with excellent posture. This cami bra gives you a slight push-up while the cups provide the required support.
Cami Bra Top
A soft cami bra top is a seamless, wire-free bra that can be worn as a bra or a top. This cami bra top is comfortable, versatile, and ultra-stretch material. It is super soft and double layered with long length worn for dance, sports, and everyday activities. This cami bra also has an adjustable strap.
Unbeatable Features :
They not only serve the purpose of a bra but are extremely fashionable too. These are designed to have some back/strap patterns that make them stand out. These Types Bras do not have thick synthetic straps that irritate your skin; the plastic or metal pieces on bras often cause rashes on your skin, but with these, you can avoid all that fuss.
The Strappy Story:
This urban beauty comes in T-back, V-back, Racer-back, Butterfly backs, and multi-strap back, adding to their exclusivity. This feature makes them wearable underneath any sleeveless or backless clothing, a chance to flaunt your beautiful back. Let alone wearing it underneath, this can even be worn as outerwear this summer.
The Transformers:
The amazing convertible J-hook on the straps can be hooked together to transform it into a racerback. Just the clasping of a hook and your entire look is now brand new. Isn't that cool? Explore these fun styles this season.
A Touch of Lace:
Lace makes everything more special, pretty, and feminine, but it also makes the fabric stretchable and is very light on the skin. Our line-up of Cami bras has gorgeous lace embellishments on the surface and also on the band. The fancy backs have lace straps and patterns all over the rear of the bra.
Three Cool Ways To Wear Them
Here are some interesting ways to style them. You can now flaunt Cami bras as outerwear because they are worlds apart from other intimates.
1. Pair Shyle's Hot Red Cami bra with a denim jacket or a solid white shirt.
2. Wear a white/black sheer top over our gorgeous Lilac Lace Cami Bra.
3. Pair Shyle's Butterfly back Black Cami bra with a short skirt.
Our urban collection of bras will make your Online Lingerie Shopping delightful. We are more than excited to bring to you some of the best bras online in India.
Cami Bra FAQ
Cami Bra Faqs
1. Is Cami Bra Good
Yes, a cami bra is good for women, especially for teenage girls. A Cami bra gives the support of a bra and renders the comfort of a camisole.
2. What Are Cami Bras?
Cami bras are slip-on bras, with no hooks, many women prefer cami bras to experience the ultimate comfort. Alike Camisole, these bras are designed mainly for teenage girls to wear as a daily wear bra for slight support. The cami bras have an elastic band that doesn't affect your skin as it is softer than the bands in a typical bra.
3. Why Camisole Bra?
A camisole bra is to support your bust in a very comfortable way. As this bra is designed for younger girls, it offers a hold to their bust at its early development stage and makes them feel at ease.
4. Are Cami Bras Comfortable?
Cami Bras are the most comfortable bras as they don't have hooks and underwires. You can wear a cami bra the whole day and you will not feel like you are wearing one.
5. What Bra Do You Wear With Cami Tops?
One can wear a low neck bra with cami tops such as a plunge bra, a strapless bra, and even a stick-on bra. You don't need to bother about the straps of the low neck bras as those will be covered by your top or shrug.
Related Blogs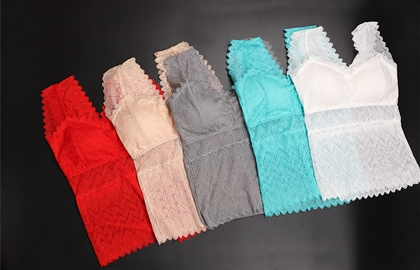 Camisoles are body-hugging, sleeveless undergarments that extend till the waist. They are usually crafted with stretchable fabric and can be slipped-into without much effort.
READ MORE