Elevate your style with our collection of comfortable and fashionable strapless bras. Shop online now to find the perfect fit and embrace the freedom of strapless fashion.
The Ultimate Guide to Strapless Bras:
Find Your Perfect Fit Online
In the world of lingerie, one item stands out as an absolute essential – the strapless bra. Whether you're dressing up for a special occasion, flaunting an off-shoulder top, or simply seeking a seamless look, strapless bras are your wardrobe's best friend. In this comprehensive buying guide, we'll take you through everything you need to know about strapless bras. From selecting the ideal fit to discovering the latest styles and unbeatable offers, we've got you covered.
Why Invest in a Strapless Bra?
Before we dive into the details, let's understand why strapless bras are a must-have:
Versatility: Strapless bras are incredibly versatile, allowing you to wear a wide range of outfits without the worry of visible bra straps. From off-shoulder dresses to halter-neck tops, they're a versatile choice.
Seamless Look: If you desire a smooth and seamless appearance under your clothing, strapless bras are your secret weapon. Say goodbye to unsightly lines or bulges.
Comfort: Modern strapless bras are designed with comfort in mind. With various styles available, including padded, wireless, and underwire options, you can choose the one that suits your preferences.
Support: Contrary to popular belief, strapless bras offer excellent support. Many feature non-slip bands and silicone grips to ensure they stay in place, providing the support you need.
Fashion Statement: Strapless bras are not just functional; they're a fashion statement. With a wide range of styles like lace, transparent, and push-up, they add an element of elegance to your outfits.
Selecting the Perfect Strapless Bra
Now that you understand the significance of strapless bras, let's explore how to choose the perfect one:
Finding Your Size:

The first step is determining your size. Many brands offer a wide range of sizes, so take accurate measurements to ensure a snug fit. A well-fitted strapless bra is essential for both comfort and support.

Style Preferences:

Decide on the style that best suits your needs. Do you prefer padded bras for extra comfort, wireless bras for freedom of movement, or underwire bras for added support? Your choice should align with your outfit preferences.

Outfit Compatibility:

Consider the types of dresses or outfits you plan to wear with your strapless bra. Different styles may work better with specific necklines and cuts, so keep your wardrobe in mind.

Comfort Matters:

Look for features like non-slip bands and soft, breathable fabrics to ensure comfort throughout the day. Some strapless bras even come with additional padding for enhanced comfort.

Reading Reviews:

Before making a purchase, it's wise to read reviews from other customers. These reviews can provide valuable insights into the bra's performance, durability, and fit.
Top Strapless Bra Brands in India
India boasts a wide array of strapless bra options from various brands. Here are some top choices:
Known for comfort and affordability, Shyaway offers a range of strapless bras suitable for everyday wear.
If you're seeking a touch of luxury, Shyaway's lace strapless bras are a popular choice among brides and fashion enthusiasts.
Women with smaller busts can opt for Brand 3's padded strapless bras, providing an excellent fit and shape.
For those with larger busts, Brand 4 offers plus-size strapless bras that offer both support and style.
Fashion Trends with Strapless Bras
Strapless bras aren't just functional; they're also a fashion statement. Here are some fashion trends and styling tips to consider:
Lace Strapless Bras: Lace strapless bras add elegance to your outfits. They work well under sheer clothing and are a popular choice for bridal wear.
Silicone Strapless Bras: If you're concerned about your bra slipping, silicone strapless bras are designed to stay in place. They're ideal for backless dresses and tops.
Convertible Strapless Bras: These versatile bras come with removable straps, allowing you to switch between strapless and regular styles. They're perfect for outfits with tricky necklines.
T-Shirt Strapless Bras: For everyday comfort, opt for T-shirt strapless bras. They provide a smooth look under fitted clothing and are a must-have for your casual wardrobe.
Unbeatable Offers and Convenient Home Delivery
Now, you can enjoy unbeatable offers, affordable prices, and convenient home delivery when you shop for strapless bras online. Whether you're looking for the latest styles, plus-size options, or comfortable everyday bras, we have it all. Make every outfit unforgettable with the perfect strapless bra.
Best Strapless Bra Offers: Buy 2 Get 3 Free, Flat 50% Off, Flat 40% Off, Buy 5 For 999
Available in a Variety of Sizes and Colors
Fabric Options: Nylon Spandex, Lace, Mesh, Nylon Spandex, Polyester Spandex, Polycotton Spandex
Bra Types: Beginners, Bralette, Cami, Everyday, Fashion / Fancy, Minimizer, Nursing, Push-Up, Stick-On, Strapless, T-Shirt, Tube
Bra Styles: Backless, Casual, Designer, Lacework, Moulded, Printed
Bra Coverage: 3/4th Coverage, Demi Coverage, Full Coverage
Cup Styles: Darted, Seamless
Cup Shapes: Balcony, Full Cup, Plunge, T-Shirt Cup
Bra Strap Options: Back Adjustable, Detachable, Front Adjustable, Fully Adjustable, Multiway, Non-Adjustable, Non-Detachable
Padding: Padded and Unpadded
Wiring: Wired and Wirefree
Upgrade your lingerie collection today and experience the freedom and confidence that strapless bras provide. Say goodbye to visible straps and hello to endless outfit possibilities. Shop now and make a statement with the best strapless bras in India. Don't miss out on the best deals and fashionable choices—your wardrobe deserves the best.
Strapless Bra FAQs
Strapless Bra Faqs
1. What Is a Strapless Bra?
As the name suggests, a strapless bra doesn't have shoulder straps. The support comes from the bra band, just like on regular bras. As there are no straps, these bras may not lie flat on your chest. But a स्ट्रैपलेस ब्रा comes with a silicone lining in the cups, which helps the bra to stay on your chest.
2. What Is the Purpose of a Strapless Bra?
A strapless bra provides a braless look while still giving a voluptuous appearance. This is possible if you wear a correct size strapless bra as it gives the necessary support, shape, and creates deep cleavage.
3. When to Wear a Strapless Bra?
A strapless bra (स्ट्रैपलेस ब्रा) is the best option to wear with strapless and backless blouses and tops. It is great to wear with halter neck dresses as there are no straps. It gives a natural shape and an elevated sexy look.
4. How Do Strapless Bras Work?
There are several types of strapless bras, and each one of them functions differently.
Stick-on bra- The adhesive content present on the side wings helps the bra stay in place.
Silicon bra- The silicon cups have the ability to snug your breasts without falling off, even without the presence of straps or a back band.
Underwired Strapless bra-The wired cups offer enough support for the bra to remain intact.
5. Which Is the Best Strapless Bra?
A good strapless bra is the one that
is comfortable enough to stay for long hours of time without falling off
adapts itself to the outfit
supports the breasts even without the presence of shoulder straps
lined enough to offer nipple coverage
provides good bust coverage leaving no room for front/ side spillage

6. I Have a Large Cup Size. Can I Wear a Strapless Bra?
Yes, of course! It is a complete myth that strapless bras don't suit larger breast sizes.
But, it is essential to keep these points in mind while shopping strapless bras for plus -size women
Go for padded cups to ensure there is enough support for larger breasts.
It is wiser to choose underwired strapless bras as they offer a gentle lift to the busts, thus eliminating sag.
Opt for cups with full coverage.
Related Blogs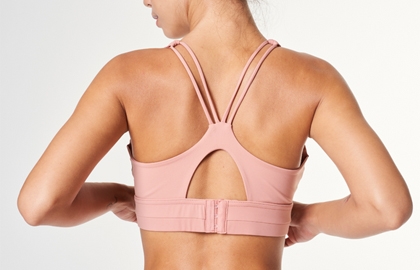 Types of bra straps are camisole style, leotard, centre-pull, wide-set, waterfall, halter, front or back adjustable, sports, racerback, convertible & strapless.
READ MORE