Padded bra (गद्देदार ब्रा) - A bra that is fitted with pads to enhance the size or shape of the wearer's breasts. Explore padded bra collections & sexy lingeries of various styles and comfort right from sports bra to plus size bra.
(or) Buy 2 @MRP Get 3 Free

(or) Buy 2 @MRP Get 3 Free

(or) Buy 2 @MRP Get 3 Free

(or) Buy 2 @MRP Get 3 Free

(or) Buy 2 @MRP Get 3 Free

(or) Buy 2 @MRP Get 3 Free

(or) Buy 2 @MRP Get 3 Free

(or) Buy 2 @MRP Get 3 Free

(or) Buy 2 @MRP Get 3 Free

(or) Buy 2 @MRP Get 3 Free

(or) Buy 2 @MRP Get 3 Free

(or) Buy 2 @MRP Get 3 Free

(or) Buy 2 @MRP Get 3 Free

(or) Buy 2 @MRP Get 3 Free

(or) Buy 2 @MRP Get 3 Free

(or) Buy 2 @MRP Get 3 Free
PADDED BRA:
A bra with padding is called a padded bra or a women padded bra. Padded bra cups contain padding or pockets for padding. The padding brings the breasts up and often brings them together to create a well-defined cleavage. It is designed to make the breasts appear big. Padded bras typically come in two styles - with removable cookies or the ones in which the pads are stitched together. If the padding is attached, it tends to be thicker at the base of the cup to provide lift and give the breasts a more natural, rounded look.
A padded bra refers to a bra with padding. A padded cup bra has padding or padded pockets. The padded cup bra lifts and brings the bust together, giving good cleavage. It also enhances the appearance of the bust. We have built-in padded bras and removable padded bras. Here we list out the padded bra sets so you can learn much more .
Types of Padded Bras:
Heavy padded bra
Lightly padded bra
Pushup padded bra
Sports padded bra
Heavy Padded Bra:
An average heavily padded bra will have super thick foam pads that will double up or triple up your breast size. These bras can be used by women with smaller breasts to increase their breast size, even up to 2 or 3 cup sizes. Heavily padded bras for small busts increase your bust size with super thick foam pads that double your bust size.
Lightly Padded Bra:
Bras with light padding at the cups are called lightly padded bras. These bra cups can be smooth and seamless, and hence make an ideal pick for body-hugging clothes. These cup padded bras are smooth and seamless. Women buy these low-padded bras as an excellent choice for body-hugging clothing.
Push up Padded Bra:
The pushup is generally designed in such a way to provide a gentle push to the breasts upwards and closer together to provide a perfect Cleavage. It is generally worn with low-neck dresses, tees, and sarees. They are padded for extra support and provide an exaggerated appearance of bigger breasts. These are soft padded bras that lift your breasts gently to provide perfect cleavage. Push-up padded bras for women give extra support and the appearance of larger breasts. These women's padded bras are paired with low-neck dresses, tees, and sarees.
Sports Padded Bra:
Sports bras are designed to provide support for the breasts while doing physical exercise in the gym or outdoors. Sports bras with padded cups will provide extra support by reducing the bouncing or sagging of breasts during heavy workouts. Sports bras are stylish padded bra giving padded full coverage for gym, yoga, running, or intense workouts. In sports bras, cotton padded bra are like bodycare padded bra.
Buy padded bra online India, which has a huge collection of best padded bras and also good padded bras.
Padded Bra FAQ's -
Padded Bra Faqs
1. What Is the Use of Padded Bra?
A padded bra offers better shaping and bust support when compared to an non-padded one. Apart from the nipple coverage that it provides, the foamed padding also restricts bounce and eliminates sag to a good extent. Moreover, these bras also save the day from bust spillage by accommodating the flabby skin within the cups. Today, right from a daily wear t-shirt bra to heavy push-ups, almost every bra style comes with padded cups because of its practicality.
2. Is It Good to Wear a Padded Bra?
There are plenty of age-old myths and misconceptions involving the use of padded bras, and we'd like to clear the air on the most common ones. Padded bras aren't going to restrict blood flow or cause breast cancer. These notions are mere stories and have no logic or science behind them. Hence, padded bras are safe and cause no harm to your breasts. Similarly, these bras do not stunt your breast growth in any way. This is one other piece of information we'd like to share.
3. Is Padded Bra Good for Sagging Breasts
First of all, saggy breasts are a result of various factors, which may include age, genetics, biological attributes, prolonged usage of the wrong-sized bra, etc. Whatever the reason, a good padded bra offers a gentle lift by pushing the flabby breast tissues to the side to let them remain within the cups. This makes your breasts appear firm and perky, removing the saggy appearance. Padded bras with underwires are preferable for better support.
4. What Is Padded Bra? Is It Better Than a Full Cup Bra?
A padded bra is either moulded with foam padding or sewn together to offer better shape and support to the bust. On the contrary, a full-cup bra focuses on coverage rather than support for voluminous or big bust sizes, and it could be either padded or non-padded.
So, instead of merely choosing a full-cup bra, it is wise to choose a padded bra with good coverage. This not only ensures bust support but also eliminates bust spills.
Related Blogs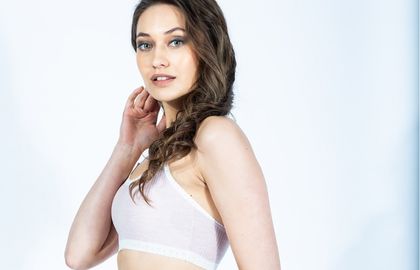 Before you count the last 10 seconds of this year, you should consider doing something special for yourself. Make gifting yourself a comfortable and supportive bra your new year's resolution for 2022.
READ MORE