Padded bra (गद्देदार ब्रा) - A bra that is fitted with pads to enhance the size or shape of the wearer's breasts. Explore padded bra collections & sexy lingeries of various styles and comfort right from sports bra to plus size bra.
The Ultimate Guide to Buying the Perfect Padded Bra for Every Occasion
When it comes to lingerie, one of the most versatile and essential pieces is the padded bra. Whether you're looking to enhance your curves, add some extra support, or simply want a comfortable everyday option, a padded bra can be your best friend. In this buying guide, we'll walk you through everything you need to know about padded bras, from finding the right size to choosing the perfect style for any outfit or occasion.
Understanding the Basics: What Is a Padded Bra?
A padded bra is a type of brassiere that includes padding within the cups. This padding can be made from various materials, such as foam, gel, or even silicone. The primary purpose of padded bras is to provide additional shape, lift, and support to the breasts, giving you a more defined and flattering silhouette.
Why Choose a Padded Bra?
Enhanced Shape and Cleavage: Padded bras are excellent for creating a well-defined and rounded shape. They can help you achieve a fuller bust and an appealing cleavage, making them ideal for low-cut outfits or special occasions.
Extra Comfort: The padding in these bras not only enhances your appearance but also provides extra comfort by preventing nipple show-through. It adds a soft layer between your skin and the fabric, ensuring you feel comfortable and confident all day long.
Boost in Confidence: Padded bras can boost your confidence, making you feel more self-assured and put-together. They provide a natural lift that can make a significant difference in how your clothing fits and feels.
Versatility: Padded bras are incredibly versatile and can be worn with various types of clothing, from everyday wear to formal attire. There are padded bras designed for specific outfits like backless dresses or sarees.
Finding the Right Size
The first step in buying the perfect padded bra is knowing your size. Here's how you can measure yourself accurately:
Band Size: Use a measuring tape to measure around your ribcage, just below your bust. Make sure the tape is snug but not too tight. Round this measurement to the nearest inch and add 4-5 inches to it. This will give you your band size (e.g., 32, 34, 36).
Cup Size: Measure around the fullest part of your bust. Subtract your band size from this measurement. The difference corresponds to your cup size:
1 inch difference: A cup
2 inches difference: B cup
3 inches difference: C cup
4 inches difference: D cup
5 inches difference: DD cup (and so on)

Sister Sizes: Keep in mind that bras come in sister sizes. If you can't find your exact size, try going up a band size and down a cup size or vice versa. For example, if you normally wear a 34C, a 36B may also fit comfortably.
Types of Padded Bra
Padded bras come in various types to cater to different preferences and occasions.
Removable Padded Bra: Offers the option to insert or remove padding as desired for adjustable comfort and shaping.
Push-Up Padded Bra: Enhances cleavage and provides lift, creating a more defined and lifted appearance.
Strapless Padded Bra: Designed without straps for wearing under strapless or off-shoulder outfits while providing support.
Heavy Padded Bra: Offers extra padding for increased volume and shaping, ideal for those seeking fuller-looking breasts.
Padded T-shirt Bra: Seamlessly constructed with light padding for a smooth silhouette, making it ideal for wearing under T-shirts or fitted tops.
Wired Padded Bra: Contains underwire for additional support and structure, maintaining shape and providing lift.
Full Cup Padded Bra: Offers full coverage and support, ideal for larger cup sizes, ensuring comfort and containment.
Sports Padded Bra: Designed specifically for active pursuits, providing support, comfort, and moisture-wicking properties during workouts or sports activities.
Casual Padded Bra: Versatile and comfortable for everyday wear, offering a balance of padding and support without specific embellishments or designs.
These variations cater to different needs, styles, and preferences, ensuring that there's a padded bra suitable for various occasions and personal tastes.
Padded Bra Care Tips
To ensure the longevity of your padded bras, follow these care tips:
Hand Wash: It's best to hand wash padded bras with mild detergent to preserve their shape and padding.
Avoid Dryer: Avoid using a dryer, as the heat can damage the padding. Instead, let your bras air dry.
Hook Closure: When storing your padded bras, always fasten the hooks to prevent snagging.
Rotate: Rotate between different bras to allow each one to rest and maintain its elasticity.
Replace When Necessary: Padded bras may need to be replaced more frequently than non-padded ones, especially if the padding starts to lose its shape or support.
Where to Buy Padded Bras
Now that you have all the information you need, it's time to start shopping for the perfect padded bras. You can explore a wide range of options online, including different colors, styles, and brands. Look for deals, discounts, and offers to get the best value for your money.
In conclusion, a padded bra is a versatile and essential addition to any woman's lingerie collection. Whether you're aiming for enhanced curves, added comfort, or a confidence boost, the right padded bra can make all the difference. So, measure yourself correctly, choose the style that suits your needs, and take good care of your bras to enjoy their benefits for a long time. Happy shopping!
Padded Bra Faqs
1. What Is the Use of Padded Bra?
A padded bra offers better shaping and bust support when compared to an non-padded one. Apart from the nipple coverage that it provides, the foamed padding also restricts bounce and eliminates sag to a good extent. Moreover, these bras also save the day from bust spillage by accommodating the flabby skin within the cups. Today, right from a daily wear t-shirt bra to heavy push-ups, almost every bra style comes with padded cups because of its practicality.
2. Is It Good to Wear a Padded Bra?
There are plenty of age-old myths and misconceptions involving the use of padded bras, and we'd like to clear the air on the most common ones. Padded bras aren't going to restrict blood flow or cause breast cancer. These notions are mere stories and have no logic or science behind them. Hence, padded bras are safe and cause no harm to your breasts. Similarly, these bras do not stunt your breast growth in any way. This is one other piece of information we'd like to share.
3. Is Padded Bra Good for Sagging Breasts
First of all, saggy breasts are a result of various factors, which may include age, genetics, biological attributes, prolonged usage of the wrong-sized bra, etc. Whatever the reason, a good padded bra offers a gentle lift by pushing the flabby breast tissues to the side to let them remain within the cups. This makes your breasts appear firm and perky, removing the saggy appearance. Padded bras with underwires are preferable for better support.
4. What Is Padded Bra? Is It Better Than a Full Cup Bra?
A padded bra is either moulded with foam padding or sewn together to offer better shape and support to the bust. On the contrary, a full-cup bra focuses on coverage rather than support for voluminous or big bust sizes, and it could be either padded or non-padded.
So, instead of merely choosing a full-cup bra, it is wise to choose a padded bra with good coverage. This not only ensures bust support but also eliminates bust spills.
Related Blogs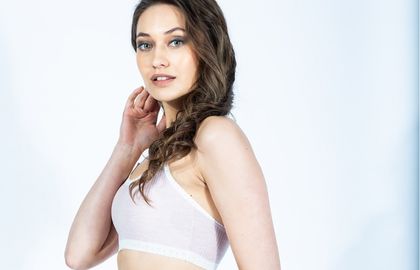 Before you count the last 10 seconds of this year, you should consider doing something special for yourself. Make gifting yourself a comfortable and supportive bra your new year's resolution for 2022.
READ MORE