Panty/panties - Panty is a women's underwear that is indeed an essential part of every woman's wardrobe. Apart from bras women panties also help in providing a better share to your outfits. Browse through our ladies' panties online collections and grab various types of panties at the best prices.
Panty - women's underwear Faqs
1. Which panty is best for ladies?
There is a plethora of sexy panties available for women to choose from at Shyaway. However, you need to take into account certain pointers when shopping for panties online.
Fabric - Make sure you are not allergic to the fabric chosen. Always choose fabric to suit your body type. If you have a tendency to sweat a lot, choose breathable fabrics like cotton.
Coverage - Ensure your panty coverage is up to your comfort. Some women prefer minimum coverage, like in thongs and G-strings. Others prefer full coverage, like in period panties, tummy tucks, boy shorts, hipsters, and bikinis.
2. Which type of panty is good for daily use?
More than the type, fabric is the key to choosing your everyday panty. Choose cotton panties if you have sensitive skin. If you are constantly wearing business suits, choose Seamless panties or thongs. In general, to lounge at home , bikinis, hipsters, and boy shorts are the best.
3. How panty liners are used?
Panty liners are an integral part of feminine hygiene. They are very similar to sanitary pads, but smaller, thinner and less absorbent. This means Panty Liners are mainly used during non-period days when you may experience vaginal discharge and/or spotting. They help keep your favorite women's underwear stain free!
4. What are the types of panties?
At Shyaway we offer a wide range of panties to choose from online. Currently we carry Hipsters Bikinis, Thongs, Boy Shorts, Tummy Tuckers and Period Panties.
5. How to measure the panty size?
Bring the measuring tape around the fullest part of your hips.
The tape must be parallel to the floor and the fit must be snug.
Record the measurement in cm.
Refer to Shyaway's Panty Size Chart to find your correct panty size.
Related Blogs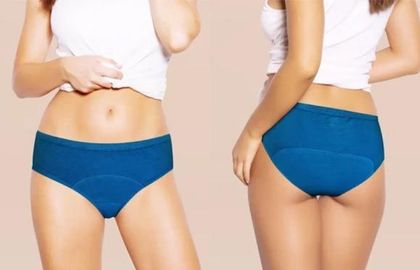 Women's period underwear, as the name suggests, comes in handy during or around the time of the month.
READ MORE