Everyday bra - Shyaway displays a unique assemblage of everyday bras for optimum support and comfort. A Printed bra is chosen on a fun holiday whereas a casual bra is carried with style on a regular day. Discover more on Shyaway bra Collections
Everyday Bras: Your Ultimate Buying Guide
Shop for Everyday Bras Online
In the digital age, buying lingerie online is a breeze. We'll show you how to find the best online stores and navigate the process with ease.
Discover the Best Casual Bras for Daily Comfort
Explore the top picks for casual bras that offer exceptional comfort for everyday wear.
Affordable Dailywear Bras That Won't Break the Bank

You don't have to sacrifice your budget for quality. Learn about affordable daily wear bras that provide great value for your money.
Comfortable Daily Wear Bras for All-Day Confidence
Comfort is key when it comes to daily wear. Find out which bras offer the comfort you need to conquer your day.
Build Your Everyday Bra Collection
Diversify your lingerie collection with a range of everyday bras for different occasions and outfits.
The Convenience of Casual Bra Shopping Online
Online shopping for casual bras offers convenience and a wider selection. Discover the benefits of shopping from the comfort of your home.
Top-Rated Dailywear Bras
Explore bras that have received top ratings and rave reviews from satisfied customers.
Embrace Style with Stylish Everyday Bras
Who says everyday bras can't be stylish? We'll introduce you to chic options that combine fashion with function.
Everyday Bras Tailored for Women
Discover bras specially designed for women, taking into account unique preferences and body types.
Trustworthy Dailywear Bra Brands
Get acquainted with reputable bra brands known for their quality and durability in the market.
The Versatility of Casual Bras for Everyday Use
Learn why casual bras are a must-have for everyday comfort and support.
Never Miss Out on Everyday Bra Offers
Stay updated on special offers and discounts for everyday bras, ensuring you get the best deals.
Online Shopping for Dailywear Bras - The New Norm
Explore the advantages of purchasing dailywear lingerie online, including privacy and an extensive range of options.
Casual Bra Styles for Women


From wire-free to padded, discover the various casual bra styles tailored to suit women.
Find Your Perfect Fit - Everyday Bra Size Guide
Ensure your bra fits perfectly with our comprehensive guide to finding your ideal size.
Casual Bra Prices
Learn about the price ranges for casual bras and how to make budget-friendly choices without compromising quality.
Quality Matters - High-Quality Daily Wear Bras
Invest in high-quality daily wear bras that are designed to last, providing long-term comfort and support.
Stay Fashionable with Everyday Bras Online
Stay on-trend with the latest fashionable everyday bras that boost your confidence and style quotient.
Everyday Bra: Shop for Comfort & Style Faqs
1. Is Everyday Bra Best for Daily Use?
A basic bra is called everyday bra. It is made up of pure cotton and some bras are made of cotton & spandex mix for stretchability.
An everyday bra provides 2 basic functions.
Everyday bras cups maybe
1.Seamed bra cups

2.Seamless bra cups
Everyday bras are best for daily use if you are just going to lounge as they are fine and soft on the skin.
2. Is It Good to Wear a Bra every day?
It is better to wear a bra every day as it lifts the breasts upward and protect the breast tissues. It prevents sagging of breasts. Wearing bra every day can save you from backache and will improve your posture. If you are staying at home and lounging, everyday bras are the best as they are simple and made to fulfill basic functions like giving support to your breasts and comfort.
3. Whats the Best Type of Bra to Buy for Everyday Wear?
When it comes to everyday bras there are many types to choose from depending on your needs.
Two main types of everyday bras are
1. Seamed bras

2. Seamless bras
There are padded and non-padded everyday bras. And also options for detachable straps and multi-way styling available. Under-wired everyday bras give better support and shape. Otherwise, padded, non-wired, everyday bras are best for minimal styling.
4. Is Everyday Bra Good for Health?
This depends on what type of bra you wear and at what time. Bras are not bad for your health but wearing a wrong bra is. For example- you need to wear a sports bra during your workouts and not your regular bra. Apart from this, wearing a bra is good for your overall health as it helps prevent sagging, improve posture, reduce back pain, and maintain healthy breast tissue.
Related Blogs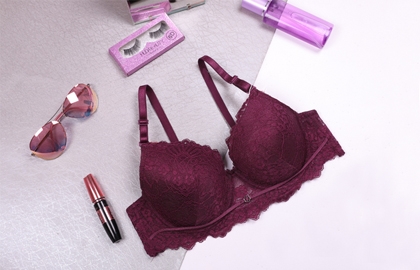 The centre gore of a bra should lie flat on your chest and keeps your breasts separate. If it doesn't, the band is too big or the cup may be too small.
READ MORE