Women Bra & Panties accessories online - Looking for essential add-ons to your lingerie closet something other than bras? The right lingerie accessories will turn out to be the savior that can save you from malfunctions, uneasiness, humiliation and what not. Find pocket-friendly bra accessories and other wardrobe essentials from our catalog of accessories, only on shyaway.com.
Bra Accessories Online – to complement your Lingerie
Bra and lingerie accessories have had an alluring effect on customers for ages and are available at Shyaway.com to add that zing to your look. Bra accessories add the perfect accent and the much-required Oomph and glitz to your sexy look. We bring you this experience at India's top online lingerie site all under one roof. No more hunting down narrow markets feeling embarrassed looking for the right design or style of bras or panties.
Showing off your bra strap was never before as fashionable as now for the daring woman who likes to match their bras with clothes. What more can you ask for when all this is available at India's top online store Shyaway.com at an affordable price range.
Lingerie Accessories – For the Woman of Substance
Looking for that right something to highlight your cleavage as you wear a deep neck blouse in your wardrobe? Pick up breast pads otherwise known as silicone pasties for such occasion. They are usually made of silicon – perfectly easy and safe to wear and use. Some women even wear them under their swimming or sports gear for that extra protection.

Once a woman gains weight during pregnancy, finding the right bra size is not the only challenge. You refuse to part and still want to wear that entire drawer full of bras and lingerie set you have outgrown. A little extra hook room is just what you need and Shyaway.com an answer to your question with our high in demand "hook extenders." These bra extenders are designed for normal hooks in bras and can be simply fixed on to the eye closure of tight-fitting bras. The price is just Rs 199. Check out the entire collection

Transparent Bra Straps are essential to every woman's lingerie for that day when you want to show off your chiseled smooth back wearing that strapless off-shoulder top or blouse. These bras come in a set of three and at an affordable rate of Rs 249.

Wearing that deep armhole or strappy top was never simpler since we started selling the bra straps online in oval clips or the butterfly bra straps. You don't have to bother anymore that your bra strap is showing up looking tacky.

Checkout your cup size on our Bra size calculator to know your band and bust size to shop for that perfect lingerie.

Our camisoles come for women of all ages and sizes and are the most attractive. Shop online and forget the walking in the heat and rummaging through that overcrowded shop. Shyaway has a wide range of lingerie for every woman be it the chic, shy, petite, extra large and for all occasions like your honeymoon, pregnancy, nursing days or that sporty bra for the gym or yoga session.

Our Swimwear and babydolls are products that are hard to find in most lingerie online stores. We offer the most affordable prices without compromising on the quality ever. We at Shyaway.com are known for trendy, fashionable, stylish, durability, strength and comfort.
You name it, and we have it! Buy bra accessories online and get to compare prices and browse through a wide range of brands to buy bra accessories and lingerie from -  like Lovable, Inner Sense, Vanity Fair, Enamor and Jockey to name a few. What else do you want when you get these options and more, that too from the comfort of your home.
Bra & Panties Accessories Faqs -
Accessories Online Collections Faqs
1. How one can wear such a bra without straps?
When backless and off-shoulder dresses are in trend, bras with straps can also be worn sans straps if it's a convertible bra. So if you have decided to give up on the straps, the wise choice would be picking a strapless bra or stick-on bra this time. Yes, a regular bra doesn't go well with backless dresses hence wearing strapless or stick-on bras adds glam to your outlook by avoiding your straps from peeping out often.
2. What are the 9 Must-Have Lingerie Accessories?
It's more suitable to call bra accessories as bra essentials. These accessories really are saviors from wardrobe malfunctions. To avoid those little embarrassing moments and for extended life, your lingerie here is 9 must-have lingerie essentials:
Nipple Covers

Bra Strap Extenders

Low Back Converter – To steal the show wearing lower back dresses.

Bust Boosters – To bring your desire to have a fuller bust to reality

Racerback Bra Converter- To flaunt some style in halter dresses

Bra Strap Holder

Transparent Bra Straps – When it's time for strapless or off-shoulder dresses

Double-Sided Tape- To hide your sliding straps underneath

Lingerie Laundry Bag or A Bra Bag – Proper care leads to a long life of bras.



3. Can Bra accessories transform your outfit?
Bra accessories don't just simply transform the look of your outfit; they remain as an outfit solution. Bra accessories let you wear stylish outfits the way they are meant to be worn. Say, breast petals nipple covers or double-sided adhesive bra tape holds your outfit in place if it's a low cut dress. A low back converter helps you to convert your regular bra into a bra that blends in low cut back without needing to buy a new one.
Related Blogs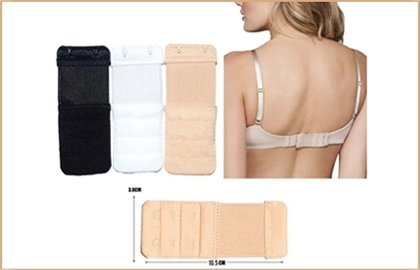 Bra extenders are basically a tiny piece of fabric that helps to extend your bra band. They are designed to make it possible for women to find their perfect bra size
READ MORE