Shapewear (शेपवियर) - Shape yourself with the stunning collections of shapewear only at shyaway.com. Make your best pick of bridal bras and moulded bras for a perfect outlook.
Shapewear for a perfect curve
Curious about shapewear and its uses? Confused with numerous choices? Get to know everything about shapewear before you buy them down below.
Shapewear for Women
The most popular opinion on shapewear for women are:
It's almost impossible to wear one.

The firmness will leave you with rashes and red marks.

Shapewear is only for obese women.

Saree shapewear restricts movement.

They are too costly.
The Best Shapewear for Women
Here is what shapewear experts got to say about the complaints placed on shapewear(शेपवियर):
The best shapewear for women is the one that hides your tummy, gives your thighs a dreamy shape, distributes your side fat, and on top of all gives you an hourglass figure. Yes, it's uncomfortable at first and unlike your high heels, shapewear understands your body and gets along within a matter of hours.

The best shapewear is made of high-quality fabric and is designed to sit firm and not tight. The broad waistband distributes your fat evenly to give you a smooth surface. If your shapewear tends to leave marks and rashes, either you have got the wrong size or the quality is not up to mark.

Though shapewear was essentially crafted for obese women to wear under bodycon or form-fitting dresses while enjoying a smooth and gentle silhouette. There are shapewears with padding created for lean women which make them look voluptuous.

Saree shapewears are crafted with side slits to enable free-range movement. Wearing a saree can be quite difficult for first-timers and saree shapewears are made to make your saree experience easier. But women have to understand that saree shapewears aren't exactly designed for sitting down on the floor nor for doing heavy tasks. They are completely for dolling you up with elegance and poise.

Shyaway shapewears are priced reasonably and offer a wide range of varieties to cater to all your needs and preferences. Buy your first shapewear within your budget and get used to being beautiful.
Shapewear for Women Online
Searching for shapewear online? Worry not, here are the most famous types of shapewear you should know before you go online shopping:
Body Briefs

- They are similar to panties and are used by women with fat deposits in the lower abdomen. They can also be useful under tight fitted pants to get rid of any jiggling muscles.

Tummy Tuckers

- Belly fat is the most common problem when it comes to wearing fitted or normal outfits. Tummy tuckers redistribute these fat deposits evenly across your torso and help you in achieving a flat stomach look all the time.

Control Camisoles

- Wearing a bra, shapewear, camisole and then your actual outfit can get tiresome. Control camisoles can be used as shapewear and a camisole. They function as shapewear that can hide your tummy, love handles and any back fat. Control camisoles are the rage among young adults and are available in nude, white and black.

Long Leg

- These are similar to your cycling shorts and are the best shapewear for your thighs. They don't guarantee a thigh gap but can still prevent your thighs from jiggling when you go dancing on a Friday night.

Saree Shapewear

- They give you the best silhouette under your saree. They are often used to achieve a saree fitting similar to celebrities. Saree shapewears can get your candid photos to look stunning while keeping your saree secure around your hips.

Seamless Shapewear

- As the name suggests, they don't have seams and go hand in hand with bodycon outfits. Seamless shapewear is often bought in nude or black colour.

Merry Widow

- These are best suited for short cold shoulder frocks or short skirts. They are similar to swimsuits and can be used to replace a bra, camisole and panties.

Body Shapewear uses extra spandex and tightly knit yarns to tuck in or push in body parts. It is designed to smooth and shape the body.

Butt Shaper is a specialized shapewear designed to raise and firm your buttocks. It helps the body to keep its natural definition and helps the muscles and skin retain its strength.
Here are a few pointers you should keep in mind before you buy shapewear online:
What type of shapewear will suit you best?

What type of fabric is used on your shapewear?

Get the help of the online store's size chart to buy the best fit

Broader the band size, the better the experience.

Buy women's shapewear online at the best price after checking the store rating. Lingerie shops should be your first choice.
Thus, shapewears are designed to offer you support, prevent humpback, bulky legs, flat chest or flat butt looks. They can also be worn by women to get their tummies back in shape after childbirth.
Similar to padded bras, butt shapers offer women a nice round butt shape. Shapewears are made of elastane, nylon and spandex which are breathable and water-resistant. Thus, they can hold sweat with an awesome fit. Buy shapewear online in India only at Shyaway, your favourite lingerie store.
Shapewear FAQ
Shapewear (शेपवियर) Online Collections Faqs
1. Which shapewear is best for the tummy?
Tummy tuckers are best for the tummy since they remove excess skin and fat. It may also remove stretch marks and excess skin in the lower abdomen.
2. What shapewear actually works?
Shapewear eliminates excess fat from the body by evenly distributing it to areas where muscles are compressed. Tummy tucker tightens the abdominal wall muscles, resulting in a smoother and toned midsection.
3. How to wear shapewear under a dress?
Remove your rings, and watches, be careful with long nails that could damage the shapewear. Insert your legs into shapewear on dry skin and lift shapewear to the knee. Now stand up and gently move your shapewear through your waist. Check to see if it is up and running till bust level.
4. Which brand of shapewear is the best?
There are many brands in the market but Shyaway has a wide range of collections of tummy tuckers and shapewear, such as saree shapers, which are designed to contour the waist, thighs, and legs. Shyaway offers high-quality products at affordable prices as well as product combos.
5. Is shapewear good for weight loss?
No fabric can remove fat and make you slim, while shapewear provides an instant solution to look slim in form-fitted outfits but it is not a long-term solution. Shapewear will not help you lose weight but create the illusion of hiding excess lumps and bumps on your body.
Related Blogs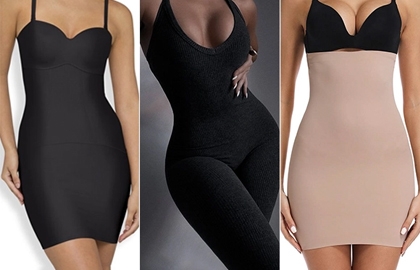 Get that instant feminine silhouette with our Essential Shapewear Solutions for the Bride on shaping your bust and more.
READ MORE