Panty/panties - Panty is a women's underwear that is indeed an essential part of every woman's wardrobe. Apart from bras women panties also help in providing a better share to your outfits. Browse through our ladies' panties online collections and grab various types of panties at the best prices.
Panty Buying Guide:

Finding the Perfect Fit with Shyaway
Panties are more than just a piece of underwear; they're an essential component of every woman's wardrobe, offering both comfort and style. With a plethora of options available, choosing the right panty can sometimes be overwhelming. This comprehensive guide, brought to you by Shyaway, India's leading lingerie brand, aims to help you navigate the world of panties, ensuring you find the perfect fit for every occasion.
Why is Choosing the Right Panty Important?
The right panty can enhance your comfort, confidence, and the fit of your outfits. Whether you're wearing a body-hugging dress, casual jeans, or bridal attire, the right underwear can make all the difference.
Types of Panties Available at Shyaway:
Panty Styles to Explore:
Bridal: Delicate lacework and designs perfect for your special day.

Casual: Everyday panties offering comfort and style.

Lacework: Elegant panties adorned with intricate lace patterns.

Maternity: Designed for expecting mothers, offering comfort and support.

No VPL (Visible Panty Line): Seamless designs perfect for body-hugging outfits.

Plus Size: Designed for curvier women, ensuring comfort without compromising on style.

Printed: Fun and vibrant designs to add a pop of color to your lingerie drawer.

Sexy: Sultry designs to spice things up.

Transparent: Sheer panties for when you're feeling bold.
Coverage and Waist Level:
Full Coverage: Offers complete coverage, ideal for maxi dresses and skirts.

Low Coverage: Minimalistic design, perfect for low-rise jeans and dresses.

Medium Coverage: A balance between full and low coverage, suitable for everyday wear.

No Coverage: As the name suggests, these are ultra-revealing, often reserved for special occasions.
Waist levels range from High Waist (perfect for high-rise jeans), Medium Waist (the most common choice), to Low Waist (ideal for low-rise pants and skirts).
Fabrics to Choose From:
Cotton & Cotton Spandex: Breathable and comfortable, perfect for everyday wear.

Disposable: For one-time use, often used during travel or menstrual days.

Lace: Delicate and sexy, perfect for special occasions.

Modal: Soft and stretchy, offering a smooth silhouette.

Nylon Spandex: Stretchable and seamless, ideal for body-hugging outfits.
Colors and Brands:
Shyaway offers panties in a spectrum of colors, from basics like grey, black, and white to vibrant hues like yellow, orange, and pink. They also have multicolor and printed options.
Brands available include renowned names like Liberti World, Shyle, Susie, and Taabu.
Sizes and Offers:
Shyaway caters to every body type, offering sizes from XS to XXXXL. Don't miss out on their exclusive offers: Buy 5 For 599 and Buy 3 For 599.
Tips for Buying Panties Online:
Know Your Size: Always refer to the size chart provided by Shyaway.
Read Product Descriptions: This gives insights into fabric, fit, and care instructions.
Check for Offers: Shyaway often has deals and discounts, ensuring you get value for your money.
Conclusion:
Panties play a pivotal role in shaping your outfit and ensuring you're comfortable throughout the day. Whether you're looking for a bridal lace panty for your big day or a cotton panty for everyday wear, Shyaway has got you covered. With this guide, you're well-equipped to make an informed decision. Dive into the world of Shyaway and find the perfect panty that complements your style and needs.
Panty - Women's Underwear Faqs
1. Which panty is best for ladies?
There is a plethora of sexy panties available for women to choose from at Shyaway. However, you need to take into account certain pointers when shopping for panties online.
Fabric - Make sure you are not allergic to the fabric chosen. Always choose fabric to suit your body type. If you have a tendency to sweat a lot, choose breathable fabrics like cotton.
Coverage - Ensure your panty coverage is up to your comfort. Some women prefer minimum coverage, like in thongs and G-strings. Others prefer full coverage, like in period panties, tummy tucks, boy shorts, hipsters, and bikinis.
2. Which type of panty is good for daily use?
More than the type, fabric is the key to choosing your everyday panty. Choose cotton panties if you have sensitive skin. If you are constantly wearing business suits, choose Seamless panties or thongs. In general, to lounge at home , bikinis, hipsters, and boy shorts are the best.
3. How panty liners are used?
Panty liners are an integral part of feminine hygiene. They are very similar to sanitary pads, but smaller, thinner and less absorbent. This means Panty Liners are mainly used during non-period days when you may experience vaginal discharge and/or spotting. They help keep your favorite women's underwear stain free!
4. What are the types of panties?
At Shyaway we offer a wide range of panties to choose from online. Currently we carry Hipsters Bikinis, Thongs, Boy Shorts, Tummy Tuckers and Period Panties.
5. How to measure the panty size?
Bring the measuring tape around the fullest part of your hips.
The tape must be parallel to the floor and the fit must be snug.
Record the measurement in cm.
Refer to Shyaway's Panty Size Chart to find your correct panty size.
Related Blogs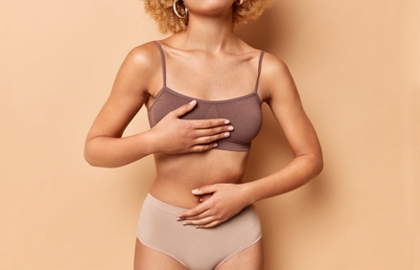 A properly-fitted panty is comfortable and gives unrestricted movement. You'll also get the desired support and coverage.
READ MORE