Discover comfort and style in every wear. Buy the best T-shirt bras that blend seamless design with exceptional support. Elevate your everyday wardrobe with us today!
Your Comprehensive Buying Guide to T-Shirt Bras in India
If you're in search of the perfect T-shirt bra, look no further. Our buying guide has everything you need to know about T-shirt bras, from the best styles to top brands, and where to find affordable options online.
T-shirt bras are the unsung heroes of lingerie. They provide a smooth, seamless look under your favorite tees, making them an essential addition to every woman's wardrobe. Whether you're a fan of wire-free comfort or prefer the added support of underwire, there's a T-shirt bra out there for you.
In this buying guide, we'll explore the world of T-shirt bras, helping you make an informed choice for your next purchase. We'll cover the different types, styles, coverage options, and much more. So, let's dive in and find your perfect T-shirt bra!
Why T-Shirt Bras?
Before we delve into the specifics, you might be wondering why T-shirt bras are a must-have. Here are a few reasons:
Seamless Look: T-shirt bras are designed with smooth, seamless cups that eliminate visible lines under clothing, especially under T-shirts.
Everyday Comfort: They are incredibly comfortable for everyday wear, ensuring you stay at ease throughout the day.
Versatile: T-shirt bras are versatile and can be worn with various outfits, from casual tees to formal attire.
Enhanced Confidence: The right T-shirt bra can boost your confidence by providing a flattering shape and support.
Now, let's explore the key aspects to consider when buying T-shirt bras:
Types of T-Shirt Bras
Padded T-Shirt Bras: These bras come with extra padding to provide a fuller and smoother look, making them ideal for those with smaller busts.
Wireless T-Shirt Bras: If you prefer wire-free comfort, these bras offer adequate support without wires.
Plus-Size T-Shirt Bras: Designed to cater to the needs of curvier women, plus-size T-shirt bras offer both comfort and style.
Seamless T-Shirt Bras: As the name suggests, these bras ensure no seams or lines show through your clothing, giving you a polished appearance.
Styles and Coverage
T-shirt bras come in various styles and coverage options, catering to different preferences:
Demi Coverage: Ideal for lower necklines, demi coverage bras reveal more cleavage while providing the necessary support.
Full Coverage: For those who prefer extra coverage and support, full-coverage T-shirt bras are a perfect choice.
Balcony Style: Balcony bras lift your breasts, creating a flattering shape that works well with a variety of outfits.
Plunge T-Shirt Bras: These bras have a lower center gore, making them suitable for plunging necklines.
Fabric and Comfort
The comfort of your T-shirt bra largely depends on the fabric. Some common fabric options include:
Choose a fabric that suits your skin type and personal comfort preferences. For hot Indian summers, breathable fabrics like cotton or mesh are excellent choices.
Sizing and Fit
Finding the right size is crucial for comfort and support. T-shirt bras are available in almost all sizes and colors, ensuring you can find your perfect fit. Refer to the size guide provided by the brand to determine your size accurately.
Bra Strap Options
Consider the strap options that suit your wardrobe needs. T-shirt bras come with various strap styles:
Padded or Unpadded
Choose between padded and unpadded T-shirt bras based on your preferences. Padded bras offer enhanced shape and coverage, while unpadded ones provide a more natural look.
Wired or Wire-Free
Decide if you prefer the added support of underwire or the wire-free comfort. Both options have their advantages, so pick what feels best for you.
Conclusion
Now that you're well-equipped with knowledge about T-shirt bras, it's time to explore the latest styles and offers available online. We offer fantastic deals such as "Buy 2 Get 3 Free" or "Flat 50% Off," making it the perfect opportunity to stock up on these wardrobe essentials. Shop now to buy T-shirt bras online and take advantage of unbeatable offers, affordable prices, and convenient home delivery, making this shopping experience truly unforgettable!
T-Shirt Bra For Women Faqs
1. What is a T-Shirt bra?
It is quite a thing that there is a special category of bras for T-shirts. That evidences that T-shirts are the popular choice of clothing.
T-shirts, in general, are made of really thin fabrics and they are oftentimes body-hugging. For these two reasons, one should be extra careful with the type of bra worn underneath. A regular bra only gives support and shape to your breasts; they are non-padded and seamed. Buy a T-shirt bra has moulded cups, do not have seams, and sometimes have underwire. Moulded cups are different from padded cups because the former retains its shape. T-shirt bras also conceal the nipples, give full coverage to the breasts, and show no bra lines. One can be comfortable and confident in a T-shirt bra for the stated reasons.
However, this bra can be an excellent choice under any clothing that is light, thin, or tight-fitting.
2. How to select a good T-Shirt bra?
The T-shirt bra will have moulded cups, light padding and will be seamless; which means no bra lines will be visible from outside. It is meant to be worn under fitted clothes, thin fabrics and of course T-shirts. Apart from these, they make your breasts full shapelier, and rounded.
When you are shopping for T-shirt bras, make sure these features are present in them. Even a normal padded bra can come off as T-shirt bras but they won't be any use when you are wearing a T-shirt.
3. A contour bra or a T-Shirt bra; what's the difference?
There is quite a difference between a Contour bra and a T-shirt bra. The structure, fit, function, and design are not only different but are contrary to each other.
While all T-shirt bras are contouring, not all contour bras are T-shirt bras. A t-shirt bra is designed to shape your breasts and look seamless. The difference lies in the padding and the function. All T-shirt bras are made of contour cups (when the cups are moulded), and they have a very thin layer of padding, but contour bras have considerably thick padding. The purpose of a T-shirt bra is to just shape the boobs and provide a seamless, invisible look from the outside. Whereas a contour bra is designed to enhance the shape and make it rounded. A T-shirt bra gives full nipple coverage and is appropriate for fitted clothes. But both these bras retain their shape even when they are not worn.
4. What are the benefits of wearing a T-Shirt bra?
T-shirt bras are very commonly used by women and are known for their exemplary benefits. Wearing an authentic T-shirt bra gives you a very smooth look around your busts and also a good definition of your breasts. The T-shirt bra gives full coverage and will reveal no bra lines. Since your nipples will be concealed through the padded, you can wear the bra underneath tight-fitting clothes and thin fabrics. They are also appropriate for formal occasions because you want to look your best and be comfortable.
In a T-shirt bra, you can be assured and feel secured in anything you wear on the outside; it expands your choices of clothing. Have no embarrassing moments of looking down to check how your breasts look from the outside. For best results, buy pastel or nude colored T-shirt bras so that the color doesn't show through your thin and tight clothing.
Related Blogs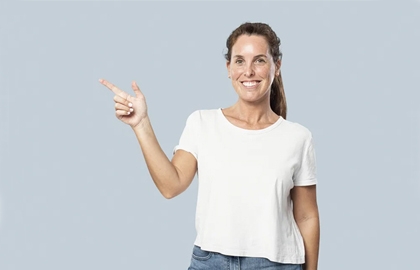 Tired of wearing the usual white bra under your white t-shirt? We are here to rescue you with the best bra colours to flaunt under your white t-shirt!
READ MORE